Intel HD Graphics (Broadwell) vs Intel HD Graphics (Braswell)
Intel HD Graphics (Broadwell)
► remove from comparison

The Intel HD Graphics (Broadwell) (GT1) is an integrated Broadwell graphics card revealed in Q1 2015. It can be found in several low-end CPUs such as the Pentium 3805U or Celeron 3755U. The so-called GT1 GPU offers 12 EUs (Execution Units) and therefore somewhat more shader power than the previous HD Graphics (Haswell). The clock range may depend on the specific model it is built into.
Architecture and Features
Broadwell features a GPU based on the Intel Gen8 architecture, which has been optimized in various aspects compared to the previous Gen7.5 (Haswell). In case of the GT1 version, the shader arrays called "subslice" have been reorganized and now offer 6 Execution Units (EUs) each. Two subslices form a "slice" for a total of 12 EUs. Combined with other improvements such as larger L1 caches and an optimized frontend, the integrated GPU has become faster and more efficient than its predecessor.
The HD Graphics (Broadwell) represents the low-end version of the Broadwell GPU family and consists of one slice with 12 EUs. Beyond that, there is also a mid-range variant (GT2, 24 EUs) as well as higher-end models (GT3/GT3e + eDRAM, 48 EUs).
All Broadwell GPUs support OpenCL 2.0 and DirectX 12 (FL 11_1). The video engine can now decode H.265 using both fixed function hardware as well as available GPU shaders. Up to three displays can be connected via DP 1.2/eDP 1.3 (max. 3840 x 2160 @ 60 Hz) or HDMI 1.4a (max. 3840 x 2160 @ 24 Hz). HDMI 2.0, however, is not supported.
Performance
Even though the HD Graphics (Broadwell) is clocked a bit lower, the performance should be clearly above the HD Graphics (Haswell) and similar to the HD Graphics 4000. Nevertheless, only a few games as of 2014/2015 will run fluently at (very) low settings, e.g. Dota 2 or Sims 4.
Power Consumption
Utilizing a new 14 nm process, the HD Graphics (Broadwell) can be found in ULV models (15 W) as well as regular dual core CPUs (37 W, not yet presented). The TDP is flexible and can be further reduced, which has a significant impact on performance.
Intel HD Graphics (Braswell)
► remove from comparison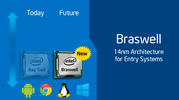 The Intel HD Graphics (Braswell) is an integrated graphics card in the low end SoCs of the Braswell series (e.g. Pentium N3700). It is based on the same architecture as the integrated GPU of the Broadwell graphics cards (e.g. HD Graphics 5300), but offers less shader cores and slower clock speeds.
The performance depends on the processor. The fastest models offer 16 EUs (shader cores) at 400 - 700 MHz. It should be about twice as fast as the old HD Graphics in Bay Trail SoCs. At the time of announcement in Q1 2015 the following models exist:
Pentium N3700: 16 EUs @ 400 - 700 MHz, Dual-Channel Memory
Celeron N3150: 12 EUs @ 320 - 640 MHz, Dual-Channel Memory
Celeron N3050: 12 EUs @ 320 - 600 MHz, Dual-Channel Memory
Celeron N3000: 12 EUs @ 320 - 600 MHz, Dual-Channel Memory
In the first CPUs the graphics card was only called Intel HD Graphics. Later (e.g. in the Celeron N3060) Intel renamed it to Intel HD Graphics 400 (Celeron with 12 EUs) and Intel HD Graphics 405 (Pentium with 16 EUs).
Gaming performance ist still only suited for older or less demanding games. Often also the processor is limited gaming performance (e.g. in the dual-core N3000).
The SoC also integrates a video decoding engine that should be able to handle 4K H.265 videos.
| | | |
| --- | --- | --- |
| | Intel HD Graphics (Broadwell) | Intel HD Graphics (Braswell) |
| HD Graphics Series | | |
| Codename | Broadwell GT1 | Braswell |
| Architecture | Gen. 8 Broadwell | Gen. 8 |
| Pipelines | 12 - unified | 16 - unified |
| Core Speed | 100 - 850 (Boost) MHz | 320 - 700 (Boost) MHz |
| Memory Bus Width | 64/128 Bit | 64/128 Bit |
| Shared Memory | yes | yes |
| API | DirectX 12 (FL 11_1), OpenGL 4.3 | DirectX 11.2, Shader 5.0 |
| technology | 14 nm | 14 nm |
| Features | QuickSync | |
| Date of Announcement | 05.01.2015 | 01.04.2015 |
Benchmarks
Performance Rating
- 3DMark 11 + Fire Strike + Time Spy
- HD Graphics (Broadwell)