Samsung Galaxy S Series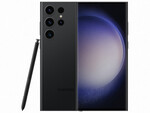 Processor:
Qualcomm Snapdragon SD 8 Gen 1, Qualcomm Snapdragon SD 8 Gen 2 for Galaxy, Qualcomm Snapdragon SD 835, Qualcomm Snapdragon SD 855, Qualcomm Snapdragon SD 888 5G, Samsung Exynos 7580 Octa, Samsung Exynos Exynos 2100 5G, Samsung Exynos Exynos 2200, Samsung Exynos Exynos 8895, Samsung Exynos Exynos 9810, Samsung Exynos Exynos 9820
Graphics Adapter:
ARM Mali-G71 MP20, ARM Mali-G72 MP18, ARM Mali-G76 MP12, ARM Mali-G78 MP14, ARM Mali-T720 MP2, Qualcomm Adreno 540, Qualcomm Adreno 640, Qualcomm Adreno 660, Qualcomm Adreno 730, Qualcomm Adreno 740, Samsung Xclipse 920
Display:
5.10 inch, 5.80 inch, 6.10 inch, 6.20 inch, 6.40 inch, 6.60 inch, 6.70 inch, 6.80 inch
Weight:
0.145kg, 0.15kg, 0.155kg, 0.157kg, 0.163kg, 0.167kg, 0.169kg, 0.172kg, 0.177kg, 0.186kg, 0.189kg, 0.195kg, 0.196kg, 0.198kg, 0.2kg, 0.208kg, 0.227kg, 0.228kg, 0.233kg
Price:
400, 649, 749, 799, 849, 899, 900, 949, 1049, 1199, 1249, 1399, 1400 euro
price: 75%, performance: 95%, features: 88%, display: 94%, mobility: 85%, workmanship: 90%, ergonomy: 89%, emissions: 96%
Samsung Galaxy S5 Neo
The Samsung Galaxy S5 Neo resembles the Samsung Galaxy S5. This is particularly true for the design with its similar build and weight at 145 g and a thickness of 8.1 mm. It features the same perforated, dotted texture on its back cover as its predecessor. The upside is that this model comes with an enhanced 5 MP front camera, which can be found in Samsung's latest Galaxy S6 and Galaxy A series. Besides, it also receives a connection upgrade by having LTE-A connectivity, which is not available in the original Galaxy S5. This basically allows faster download speeds and application response time, which increases the efficiency of the phone. Another change in this model is the replacement of Galaxy S5's USB 3.0 port along with its waterproof flap with an open-aired USB 2.0 port, which could be either favorable or not depending on user preference. However, there are some prominent downgrades as well, such as that the Qualcomm Snapdragon 801/805 was replaced by Samsung's own Exynos 7580 SoC, which is only able to record HD videos as compared to 4K ones. The fingerprint sensor on its home button has also been removed, which many may find it a convenient feature too good to be letting go. Regardless, the Galaxy S5 Neo retained many of its predecessor's valuable features, such as the 5.1 inch Super AMOLED display, a 16 MP rear camera and IP67 dust and waterproof certification.
Specifications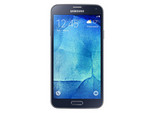 Notebook:
Samsung Galaxy S5 Neo
Processor:
Samsung Exynos 7580 Octa
Graphics Adapter:
ARM Mali-T720 MP2
Display:
5.10 inch, 16:9, 1920 x 1080 pixels
Weight:
0.145kg
Price:
400 euro
Links:
Samsung notebook section
Galaxy S5 Neo (Model)
Pricecompare
Average Score:
Average of 10 scores (from 12 reviews)
Foreign Reviews
Samsung Galaxy S8
The Samsung Galaxy S8 is one of those phones that is up against some massively impressive competition in 2017. It is a very strong phone with great design and hardware specification. One of the most noticeable changes on the Galaxy S8 is that it's got around the loss of the front-facing home screen button, which means the handset is usable without requiring the mechanical key on the front of the Galaxy S8. Samsung has created two smartphones with big, beautiful screens that are both far more comfortable to use than any comparable models from the company's rivals. While the Infinity Display (as Samsung is calling this edge-to-edge effort) isn't completely bezel-less at the sides, it still seems to spill over to the back of the phone. It's by far the lowest bezel-to-screen ratio seen on a globally-available flagship phone so far. Besides that, Samsung has spent two years convincing the world that a curved screen is best, and the fact it's on this handset is a testament to that effort. The 5.8-inch screen is packed tightly into the frame but it's still large at 148.90 x 68 x 8 mm. The fingerprint scanner is on the back by the camera. However, it's rather hard to use from the natural holding position for a phone in your palm because it is too close to the camera. Being the one that packs in wireless charging and an IP68 rating, user can immerse this phone in water and dust with little worry. In addition, they do not even need to plug in a cable to charge it. The 5.8-inch Super AMOLED display is clear, bright and colorful, with a QHD resolution. However, it's worth noting that the QHD element has been reduced by default: The user will be looking at a Full HD offering to start with. Thus, there is a need to choose to enable the full resolution capability in settings. As it allows more content to be split down the front of the phone, all the internal apps are optimized to make use of this larger space. Samsung also launched Bixby, which is its own intelligent assistant, before the launch of the phone. The Samsung Galaxy S8 is clearly the launch vehicle for the AI service. There is a dedicated Bixby key on the side of the Galaxy S8. So, the user always has instant access to the portal. According to Samsung, Bixby is meant to be a frictionless assistant that can follow the user through voice, the camera or touch, learning what user want it to do, and not requiring the user to know a specific set of phrases to make it work. As for hardware specification, it has 4 GB of RAM alongside the Qualcomm Snapdragon 835 processor and 64 GB storage. The storage is expandable via microSD slot by up to 256 GB. The front camera has seen a bigger upgrade, with a new 8 MP sensor. It also has a f/1.7 aperture and autofocus, which is still a rarity on selfie cameras. There is a 8 MP secondary camera on the front too. For the operating system, the Samsung Galaxy S8 runs on Android 7.1 Nougat. The S8 is certainly one of the best flagship device out there now but being the best also means it is going to cost much more than the rest. Hands-on article by Jagadisa Rajarathnam
Specifications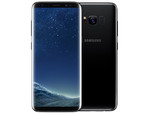 Notebook:
Samsung Galaxy S8
Processor:
Samsung Exynos Exynos 8895
Graphics Adapter:
ARM Mali-G71 MP20
Display:
5.80 inch, 2.06:1, 2960 x 1440 pixels
Weight:
0.155kg
Price:
799 euro
Links:
Samsung notebook section
Pricecompare
Average Score:
Average of 218 scores (from 558 reviews)
Foreign Reviews
Samsung Galaxy S8 Plus
Hands-on article by Jagadisa Rajarathnam
The Samsung Galaxy S8+ is a smartphone where Samsung rethought every part of the phone's layout to break through the confines of the smartphone screen. So all users see pure content and no bezel. It's the biggest, most immersive screen on a Galaxy smartphone of this size. And it's easy to hold in one hand. The Samsung Galaxy S8+ does not only feature an impressive screen, but also strong hardware specification and design. Samsung's Galaxy S8 Plus is another all-glass design wrapped around a thin metal frame, and its edge-to-edge curved sides are accompanied by ultra-thin top and bottom bezels. The Galaxy S8 Plus flaunts it even more than the S8, fitting a tall 6.2-inch display inside truly phablet dimensions of 159.5 x 73.4 x 8.1 mm. It weighs 173 g. There's also no longer a physical home button on the front – instead, the phone relies on a pressurized on-screen home button. There are three color options available for the S8+ which are Midnight, Orchid Gray, and Arctic Silver. As for the display, the S8+ has an AMOLED panel with a quad-HD+ 2660 x 1440 resolution that looks super-sharp. One factor that makes the display super-sharp is the Mobile HDR (high dynamic range). It is really a killer addition to the display. Samsung says this is the first phone with the Mobile HDR Premium stamp. HDR gives users richer colors, inkier blacks and better contrast, and generally makes things look more realistic on-screen. On-screen buttons are popular on other Android phones that benefit from more screen real estate, but this is a big change for long-time Samsung phone users. The fingerprint sensor has been moved to the back, adjacent to the camera. Samsung includes a number of other ways to unlock the phone. Besides the fingerprint sensor and the usual passcode unlock method, both an iris scanner and face recognition provide touch-free unlocking. Another addition to the Galaxy S8+ is Bixby which is supposed to rival Apple's Siri and Android's Google Assistant. Bixby is dotted throughout the OS, in the camera and its own dedicated home screen. The benefit of Bixby is that it's a system-wide intelligent interface for the Galaxy S8 Plus. The user can control the entire smartphone by prompting Bixby. Like Siri, a user can ask it questions and it'll carry out basic tasks, and there is no need to utter an awkward 'wake word', as there's a button solely to open Bixby under the volume rocker. The Samsung Galaxy S8 Plus has next-generation power under the hood to match that futuristic exterior, and that's thanks to its new processors. It has a 10 nm octa-core chipset at its heart, matched with 4 GB of RAM. The S8 Plus has 64 GB of internal storage, which can be upgraded via the microSD slot by another 256 GB. As for the camera, there's a single 12 MP sensor on its back with a wide f/1.7 lens that uses the same dual-pixel technology as the S7. A new multi-frame image processor takes three shots every time user snap, reducing blur and leaving with a sharper single photo. The front camera has seen a bigger upgrade. The new 8 MP sensor has a f/1.7 aperture and there's autofocus too, which is still a rare thing on selfie cameras. With all these amazing specs put together, it is undoubtedly the smartphone to beat for any upcoming flagship.
Press Review by Capuchino Saber
Considered as the flagship line from Samsung, the Galaxy S line has made substantial marks on the phone market and excited technical and trendy fans. "Samsung knows how to make a premium Android smartphone. For the past few years, every addition to their Galaxy S series has absolutely nailed it, shooting Samsung to the top of the popularity charts" (following a review on page TechSpot), and there is no exception for the new Samsung phone, the Galaxy S8+. As written on page KnowYourMobile.com, "As of right now, though, the galaxy S8 - and Galaxy S8 Plus - are the hottest handsets on the planet. The handsets are designed to help Samsung retain its number one status as King of the Phone Market in 2017/18". Now, we will have a look on this flagship phone with lots of new upgrades.
Design
For the design, according to page KnowYourMobile, "The main thing is that the Galaxy S8 series has only become curvier and more streamlined than its already notably curved predecessors; the corners are completely smoothed and rounded, while the curvature of the edge display follows a continuous line from front to back where it meets a perfectly symmetrical rear panel, with only a thin silver of bodywork separating two". Moreover, as a comment from page TechSpot, the front of this handset is absolutely dominated by screen, so much so that it makes every other smartphone ever released look last-generation in comparison. Also, page AndroidBeat showed their opinion that when pick up the S8+ and roll it around in your hands and it's super-sleek, super-solid: "It's like finding an alien object, fallen from space and polished smooth by centuries of space dust abrasion - there are no sharp edges". Remarked upon the Galaxy S8 Plus' size on page PCAdvisor, "The Plus model isn't a vastly bigger than the regular Galaxy S8. It's around 10nm taller and 5mm wider which isn't much to jump from a 5.8 to 6.2 inch screen". With the opposite viewpoint from page TechRadar, they complained that the Galaxy S8 Plus obviously wasn't the perfect phone for everyone, and for more reasons than it was too tall for use with one hand. "Having no physical home button is going to be a deal breaker for Samsung fans and their muscle memory", this page added. However, like a remark on page TrustedReviews, the curved front and back help it to nestle in hand, and the narrow design means your palm isn't stretched quite so much as it is when holding an iPhone 7 Plus. And as evaluated from page EnGadget.com, from their rounded edges to their precisely formed metal-and-glass bodies, they feel like smaller, sleeker versions of the Galaxy Note 7.
Display
The display, as a review on the page KnowYourMobile, is now a 6.2 inch Super AMOLED - nearly as big as the Galaxy Note - but the screen pushes out to much more of the front fascia, indeed, the phone's front is virtually all screen with an 84% screen-to-body ratio and an 18:9 aspect ratio. "In term of display area, which becomes the most important metric to compare displays of different aspect ratios, the Galaxy S8 Plus's display is 17 percent larger than the Galaxy S7 Edge's display thanks to its extra height", said page TechSpot. In addition, regarding page AndroidBeat, when we are using Android, virtual controls at the display's bottom and the Android status bar at the top frame your content in traditional fashion, though when an application (e.g. watching media) takes control of the whole screen it's like that moment in a cinema when the side panels pull away and everything suddenly gets bigger and wider. Positively, PCAdvisor stated that it was worth noting that the screen ran at FHD+ (2220 x 1080) by default but it still looked great like this and we probably wouldn't feel the need to jump to Quad HD but we could do in the settings if we wished - or even dropped it to 720p. Particularly, TechRadar showed their mind about the Galaxy S8 Plus' display that reading was certainly easier, and split-screen multitasking felt less cramped, but because it deviated from the traditional 16:9 ratio, the phone threw up black bars when playing video content: "This didn't bother us as much as we thought it would, and it's partly because every S8 color option has a black front face. It blends really well". "It's the only phone so far to have been Mobile HDR Premium certified by the same UHD Alliance that will certify HDR TVs. HDR is a big step up for televisions, offering better contrast and a brighter picture - and while it's great to see it trickle down to phones, neither Netflix or Amazon Prime have updated their apps to support it yet" (TrustedReviews).
Audio and Speakers
As general evaluation from KnowYourMobile, the phone's audio via the speakers is quite impressive in quality and maintaining this at high volumes. Furthermore, like page TechSpot's opinion, "The built-in speaker is just a single edge-firing unit with mediocre quality, and that's perhaps the weakest aspect of this phone's sound experience. The phone does support 32-bit/382kHz high quality audio through the headphone jack, though". Also, TechRadar showed their dissatisfaction with the speaker on the Galaxy S8 Plus: What's ancient was the single speaker at the bottom, and they were disappointed to see it. It was easy to accidentally cover up the grille when watching YouTube videos in landscape mode, and really, when Apple was beating us to something with the iPhone 7, we knew there was a problem. On the contrary, AndroidBeat commented that Samsung bundled some excellent little AKG braided headphones - these had good bass and general fidelity and were a world apart from the earphones Samsung had used to bundle: "Well done all round - I really enjoyed headphone audio from the S8+".
Performance
Powered by Samsung's 64-bit Exynos 9 8895 octa-core processor, this CPU features four 2.3GHz Exynos M2 "Mongoose" cores and four 1.7 GHz ARM Cortex-A53 cores, under ARM v8 microarchitecture on 10 nm FinFET semiconductor fabrication. It also packs a Mali-G71 MP20 clocked at 546 MHz and 4 GB of LPDDR4X RAM. As a remark on page KnowYourMobile, some reports from the states suggest that the US model, running a 10 nm Qualcomm Snapdragon 835, is getting slightly higher performance results. According to TechSpot, it is clear that the Galaxy S8 Plus holds a strong lead over the Galaxy S7 Edge in CPU-limited workloads: "Those upgrading from the Exynos-powered Galaxy S6 will enjoy 37 percent better CPU performance on average". Reviewed positively from page AndroidBeat, the Galaxy S8 Plus is fast, though you always get the impression navigating around the UI that the "Samsung experience" skin is slowing things down - just a little. The PCAdvisor gave their praise for the performance: "The S8 Plus is also a top performer and we can't say we've noticed it lag or slow down at all". As the experiment of TechRadar, the TechRadar's Geekbench benchmarking gave the Exynos chipset a 6630 multi-core score while the Qualcomm chipset averaged a 6000 multi-core: "More importantly, we experienced no slowdown other than gradually appearing Bixby animations - that's not actual slowdown". Showing more details on the performance, TrustedReviews said that Bluetooth 5.0 was another addition that they felt like it was there to future proof the phone, but it fixed one of the biggest annoyances the reviewer had had with Bluetooth. This page added we could now connect two devices simultaneously and play the same source through them both, which was great for listening to the same song with two pairs of wireless headphones. Besides, "The S8 and S8 Plus are effortlessly fast machines, and hardly anything I threw at them over a week of testing got them to shutter. This is mostly due to the shiny new Snapdragon 835 and 4GB of RAM onboard" (page EnGadget.com). Lastly for the performance, the reviewer of KnowYourMobile left an evaluation that the Galaxy S8 Plus was one of the fastest and most responsive handsets he had used for some times, in particular the touch input felt significantly more refined than most rivals: "It doesn't balk at multitasking either, happily racking up app after app in the background, and the memory seems intelligent enough to keep switching smooth when restoring a hibernating app".
Camera
Talking about the camera, TechSpot described the Galaxy S8 Plus used the same 12-megapixel Samsung S5K2L1 (or Sony IMX260) 1/2.5" CMOS sensor as the Galaxy S7 Edge, with 1.4㎛ pixels and dual pixel PDAF technology; it had paired with an f/1.7 lens 26 mm lens and optical image stabilization. Considered as a plus point, PCAdvisor left a review that the Galaxy S7 range has an awesome camera and Samsung hadn't felt the need to make any huge changes for the S8 Plus: "Overall, the camera app is smooth and responsive, and as you would expect offers plenty of different models and filters to play around with". Regarding page AndroidBeat, this could be the best all round phone camera in the world right now: "Video is optically stabilised and optionally electrically stabilised too, at up to 4K and with good stereo audio capture and that same lightning fast focus as with stills". TechRadar also showed their mind that the front-facing Samsung Galaxy S8 Plus camera had been given an even bigger upgrade, reflected in both the specs sheet and its overall performance. Moreover, "It's a great camera for varying situations, whether you're taking landscape shots or portraits in daytime or at night. The new auto HDR mode is turned on by default, levelling out exposure and contrast in brighter conditions, and does a very good job of ensuring that every photo you take looks great" (quoted from TrustedReviews). Also, page KnowYourMobile evaluated that what small tweaks that had been performed had been very careful and precise, and they had made huge difference to the overall quality and shooting experience.
Battery Life
The Galaxy S8 Plus, as commented on page KnowYourMobile, has the best battery of any smartphone that the reviewer has ever tested: "I've pretty much only had to charge it a couple of times since I got hold of it". For the page TechSpot, the Galaxy S7 Edge has fantastic battery life, and it's great to see the Galaxy S8+ largely living up the performance of its predecessor here. In addition, "During our time with the S8 Plus we've found it comfortably lasting a 24 hour period of usage but it's unlikely to get through a second day unless you're a particularly light user", said PCAdvisor. Following a remark on page TechRadar, the Galaxy S8 Plus is power-efficient enough to offer day-and-a-half battery life, and they didn't have a problem running out of juice every day, even with heavy photo and video use. This page also explained that this was partly due to its smaller and less power-hungry 10nm chipset and partly because of the default Full HD display setting looked nearly as good as maxed-out Quad HD resolution. And, "The winner, though, is the S8 Plus and its 3500mAh battery. It clocked in at 15 hours 8 minutes in an HD video at 50 percent screen brightness while the phone is connected to Wi-fi, longer than the Pixel XL, Note 7 and Moto Z Force", recorded by EnGadget.com
Verdict
In general, "This is easily the best phone on the market when it comes to battery life, so if you're looking for a handset that will go the distance - look no further" (page KnowYourMobile). Evaluated generally, page TechRadar supposed: "It features the best phone display, chipset and camera of any phone to date. In other words, it has the best looks, most power and is extremely photogenic". Notwithstanding, in my opinion, the Samsung Galaxy S8 Plus is considered the exceptional smartphone with such a lot of advantages, like the stunning design, a reliable camera in any light, and the best screen on any phone even though there are some minor detects which make user a little annoyed: single speaker, bad fingerprint scanner position, and Bixby remaining useless. Finally, "At the end of the day, the Galaxy S8 Plus is a phone I'd recommend to most buyer, but only if you're willing to put up with its fragility", concluded page TechSpot.
Specifications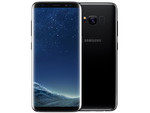 Notebook:
Samsung Galaxy S8 Plus
Processor:
Samsung Exynos Exynos 8895
Graphics Adapter:
ARM Mali-G71 MP20
Display:
6.20 inch, 2.06:1, 2960 x 1440 pixels
Weight:
0.172kg
Price:
899 euro
Links:
Samsung notebook section
Pricecompare
Average Score:
Average of 196 scores (from 408 reviews)
Foreign Reviews
Samsung Galaxy S8 Active
Specifications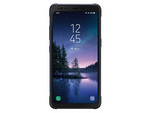 Notebook:
Samsung Galaxy S8 Active
Processor:
Qualcomm Snapdragon SD 835
Graphics Adapter:
Qualcomm Adreno 540
Display:
5.80 inch, 2:1, 2960 x 1440 pixels
Weight:
0.208kg
Price:
900 euro
Links:
Samsung notebook section
Pricecompare
Average Score:
Average of 7 scores (from 12 reviews)
Foreign Reviews
Samsung Galaxy S9
First announced in February 2018 and expected to arrive in March 2018, the new Android 8.0 (Oreo) Samsung Galaxy S9, is about to take the wave among all Samsung lovers with its 4 range of colors; Midnight Black, Coral Blue, Titanium Gray, and Lilac Purple. It is noted to have the best smartphone display in the market by DisplayMate. It is 8.5 mm in thickness and 163 g in weight. It goes by the size of 147.7 x 68.7 x 8.5 mm and is built on a front/back Gorilla Glass 5, lined with an aluminum frame. Single SIM (Nano-SIM) and hybrid dual SIM (Nano-SIM, dual stand-by) models are available. The benefit of this new addition to the Android family, is that it comes with Samsung Pay (Visa, MasterCard certified), and is IP68 certified towards being dust and waterproof resistant up to 1.5 meter and 30 minutes. It is blanketed with a Super AMOLED capacitive touchscreen of 16M colors. Its 5.8 inches QHD+ screen features 567 PPI, a resolution of 1,440 x 2,960 pixels, and a 18.5:9 aspect ratio. Not to mention, it comes with a multi-touch function, is protected with Corning Gorilla Glass 5, is HDR10 compliant, offers 3D Touch for the home button, and has an always-on display. It runs on an octa-core CPU (4x 2.7 GHz Mongoose M3 and 4x 1.8 GHz Cortex-A55) for EMEA, and an octa-core (4x 2.7 Ghz Kryo 385 Gold & 4x 1.7 GHz Kryo 385 Silver) for the US and China, and a Mali-G72 MP18 GPU for EMEA and an Adreno 630 GPU for the US and China. The chipset works on an Exynos 9810 Octa for the EMEA and Qualcomm MSM8998 Snapdragon 845 for US and China. Moreover, it contains a microSD card slot, which supports up to 400 GB and uses the second SIM slot for dual SIM model only. The phone comes with 64, 128 or 256 GB of internal storage and 4 GB RAM. Added features to boost the interest among Android lovers, is the 12 MP camera with dual pixel PDAF, phase detection autofocus, OIS, and LED flash for its primary camera, whilst the secondary camera works on an 8 MP, autofocus, at
[email protected]
, dual video call, and auto HDR. Its connectivity includes WiFi, Bluetooth, GPS, NFC, FM radio, and a reversible USB-3.1 Type-C 1.0 connector. The Samsung Galaxy S9 supports fast battery charging (Quick Charge 2.0) of its , non-removable lithium-ion battery with 3,000 mAh (11.55 Wh). On the surface, the S9 may look very much like the S8, but on the inside, it has fixed a lot of the features missing from the S8. It also looks better and because of the new fingerprint sensor location, is more practical to be used. The S9 is a worthy upgrade for those who are looking for the latest in the market, but for those who are already using the S8 may want to skip this model. Hands-on article by Jagadisa Rajarathnam
Specifications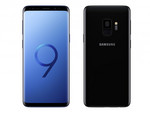 Notebook:
Samsung Galaxy S9
Processor:
Samsung Exynos Exynos 9810
Graphics Adapter:
ARM Mali-G72 MP18
Display:
5.80 inch, 18.5:9, 2960 x 1440 pixels
Weight:
0.163kg
Price:
849 euro
Links:
Samsung notebook section
Pricecompare
Average Score:
Average of 182 scores (from 416 reviews)