Samsung CEO admits the Galaxy Fold's launch was "embarrassing"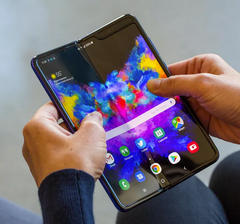 In an interview with a small group of media outlet, Samsung CEO D.J. Koh stated that the Galaxy Fold's flubbed launch was "embarrassing." However, Koh still sees foldable devices as the next logical step in the evolution of personal computing. Koh also stated that he envisions a future of connected devices that will replace even foldable phones in a few years time.
There's a good reason Samsung is the largest smartphone manufacturer in the world in terms of sales; its phones are hugely popular due to their innovation and aggressive marketing campaigns. However, in the fight to stay on top of a rapidly evolving market, the Korean giant has faced several obstacles. The most recent of these was the failed launch of the Galaxy Fold, which was, in the words of CEO D.J. Koh, "embarrassing."
Speaking to a small group of media outlets, Koh lamented rushing the Galaxy Fold before it could be thoroughly vetted and tested. Responding to The Independent, Koh said
"I pushed it through before it was ready…. I do admit I missed something on the foldable phone, but we are in the process of recovery. At the moment, more than 2,000 devices are being tested right now in all aspects. We defined all the issues. Some issues we didn't even think about, but thanks to our reviewers, mass volume testing is ongoing."
The Galaxy Fold debacle is reminiscent of the Galaxy Note 7's battery explosions, the echoes of which still haunt Samsung. Both devices showed a lot of promise and aimed to be the absolute best smartphone on the market, but critical design flaws led to their discontinuation. Shortly after they were released to reviewers and press outlets in April, the screens of Galaxy Fold samples began breaking, some within days of use.
Despite the setback, Koh still thinks foldables are the future. At least, for a time. He told The Independent that the last decade was "an era of the smartphone" and that foldables were the next logical step in smartphone design. However, Koh thinks that even foldables are on a very limited timetable. Referring to the new form factor, Koh said,
"Foldable will last a couple of years. Another form factor is a possibility, but I will say that once 5G and the internet of things are available, we must think rather than smartphones, we must think smart devices."
Koh envisions a future of connected devices of various shapes and sizes that will allow users to streamline a single workflow when transitioning from home to the office and back.
In the meantime, Koh says that the Galaxy Fold is still coming. Responding to an inquiry about the flubbed launch and the absence of a concrete release date, Koh said that the phone will arrive "in due course. Give us a bit more time."