Samsung Galaxy Fold 2 could feature horizontal hinge and bigger external screen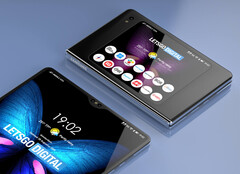 The newest patents published by EUIPO reveal two possible designs for the 2020 Galaxy Fold models. One design is almost identical to the current Fold, except it has smaller notches. The other one features a horizontal hinge that enforces a form factor similar to a handheld console. It also has a centered upper notch and the outer screen is considerably larger.
Even with all the problems that delayed the initial launch of the Galaxy Fold, it looks like Samsung will still be the first company to deliver a folding phone to mass consumers. The South Korean giant had more than enough time to revise the faulty design, and the next versions should hopefully be thoroughly tested before launch. Speaking of future versions, Samsung's latest design patents published with EUIPO on August 26 give us a glimpse at how the 2020 galaxy Fold models might end up looking. Surprisingly enough, the design patents were approved in under 2 weeks, when it usually takes EUIPO at least several months to review and approve patents.

The overall size of the new design appears to be similar to that of the current Galaxy Fold. However, there are a few notable differences. The hinge is placed horizontally relative to the unfolded screen, which leads to a smaller folding area. This change allows the repositioning of the smaller display notch in the upper center area. From a form factor standpoint, this design resembles a Nintendo 3DS console.

While the hinge itself is shorter, the handheld still folds inwards, yet Samsung is also willing to try outward-folding models, as we have seen from previous patents. Another interesting change is the size increase for the outer display, which appears to have an aspect ratio smaller than 4:3.

Samsung's new patent also features two variants that have vertical hinges very similar to the current Galaxy Fold design, save for smaller notches. This could mean that the 2020 lineup may introduce designs for the entry-level and mid-range sectors, as well.