Samsung Galaxy Fold 5G: Foldable and not as expensive as an iPhone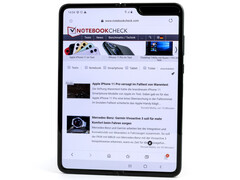 The Samsung Galaxy Fold costs around €2,100 (~US$2305) in Europe, for which you will receive the first foldable smartphone to reach the continent. While the device is absurdly expensive, it is no more expensive than some iPhones despite offering more functionality and innovations to boot.
The Samsung Galaxy Fold is the first foldable smartphone to reach Europe. The device impressed during our tests not only with its 7.3-inch OLED display but also with its fast SoC, an abundance of memory, large battery and great triple rear-facing cameras. €2,100 (~US$2305) will always remain a hefty price for a smartphone, though. (buy Galaxy Fold now at Amazon)
Samsung included plenty of accessories for the money, at least. Our review unit arrived with a fibre cover, Samsung Galaxy Buds and even a year's Samsung Care+, giving you a year's cover against accidental damages. Additionally, you can even receive a personal handover from one of Samsung's trained members of staff to get you accustomed to using the Galaxy Fold. This can be set to a fixed date too, which is a bonus.
Moreover, while the Galaxy Fold is ludicrously expensive, it is no more so than the 512 GB version of the Apple iPhone 11 Pro Max once the cost of comparable accessories that Samsung complimentarily includes. By our reckoning, the iPhone 11 Pro Max costs €2 (~US$2.20) more if you also buy the cheapest Apple case (buy Leather Case for iPhone 11 Pro Max at Amazon), Apple Care+ and a set of AirPods. The iPhone 11 Pro Max has IP certification, but there is no 5G radio, nor a foldable display. Some people may care for neither of those innovations, but it does put into context how comparably well-priced the Galaxy Fold is for a first-generation device.