Are you ready for the Samsung Galaxy Tab Fold?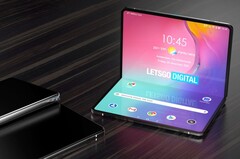 Having invested hundreds of millions of dollars in its foldable Infinity Flex Super AMOLED display technology, it makes sense that Samsung is keen to deploy it in the marketplace where it feels it can gain some traction. Enter a patent for a foldable Galaxy Tab that is very similar to the Galaxy Fold smartphone, but larger and without a secondary display.
Foldable display technology might still have to prove itself in the marketplace but there is little doubt it offers substantial allure. The Galaxy Fold has made the dream of a smartphone that can unfold into a compact tablet a reality but Samsung, as you might imagine, clearly has more plans for the display technology. Although expensive at this early stage, the Korean giant has invested hundreds of millions of dollars in developing the technology and wants to expand its product line up.
We already know that a Galaxy flip phone foldable similar to the just launched Motorola Razr is coming soon, but it looks like the company may have a foldable Galaxy Tab in the works. The folks at Letsgodigital have uncovered a Samsung patent for a folding tablet and have brought it to life in some great looking renders. Although the Galaxy Fold makes for a great compromise between a smartphone and a tablet, it is certainly not going to compete with larger 10- to 12-inch tablets on the market for productivity.
The Samsung Galaxy Tab Fold, as it might be called, is very much like a larger version of the Galaxy Fold smartphone/tablet hybrid except it doesn't include a secondary display. The key advantage of a larger folding tablet is that it could be bent at the middle and allow a user to use a software keyboard to type on much as they would with a standard clamshell laptop with the display in an upright position. Obviously, if used just for viewing content, then it would offer a much larger display when folded flat.
On the surface, it might not be quite as compelling as the Galaxy Fold, but it looks like the concept may have potential. Let us know what you think in the comments – would you like to see Samsung make it?