Samsung Galaxy Fold (in new revamped form) allegedly caught in live images on Indian transport system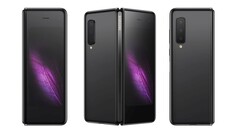 A SamMobile source claims to have spotted a working unit of the Samsung Galaxy Fold in the hands of someone on the New Delhi metro recently. It is likely that this device has the updated design it needs to secure a re-do of its planned April 2019 launch.
Some of the most recent leaks concerning the Galaxy Fold concerns the form-factor overhaul that Samsung has enacted in order to address the next-gen phone's initial design flaws. The newest rumor about this device is that one of the resulting units had been taken for a day out around the Indian city of New Delhi.
A hawk-eyed tipster associated with the blog SamMobile allegedly spotted this unit in someone's hands while travelling through the same area. The photo snapped by this individual does indeed appear to show a phone very like the Galaxy Fold we have come to know - or rather thought we did before some reviewer units exhibited the issues that sent it back to the drawing board.
The phone in question is indeed doubled over at a definitive hinge. Whether this component is a new version for the 'Galaxy Fold Mark 2' is less clear. Nonetheless, this leak may offer more evidence that the innovative foldable device is nearly ready for launch (again) - provided the image involved is genuine, of course.