AT&T cancels its Samsung Galaxy Fold pre-orders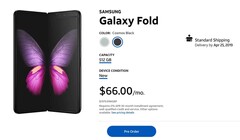 The US carrier AT&T has sent emails to customers who have pre-ordered the (still) upcoming Samsung Galaxy Fold informing them that these reservations have been cancelled. The company states that it will refund any advance charges made, or release any funds held, in conjunction with these transactions. Affected customers may also receive credits against a future bill.
The Samsung Galaxy Fold's public release has been put on hold while the company re-works its construction in order to improve the flexible phone's resistance to screen damage and particle ingress. This has inconvenienced customers in many regions who had pre-ordered the device through various sellers and carriers. As if to underscore the seriousness of this situation, these same companies have cancelled these transactions.
AT&T is one of the latest businesses to take this step. It has followed Best Buy's lead in the United States in informing those customers who have signed up to purchase a Galaxy Fold for use on its network that the transactions in question have been suspended.
In some cases, prospective buyers had to pay a deposit or allow the cost of the phone to go on hold within their respective accounts to secure a pre-order. AT&T has stated that they will be rescinded. The carrier, who contacted affected individuals via email, has also stated that it will apply a US$100 rebate to the bills of those it has had to inconvenience with the decision.
This move is also yet another indication of the lack of faith in which a speedy re-launch for the Galaxy Fold is held by the mobile device resale industry. The most recent media coverage on this issue indicates that this event will take place in July 2019. However, Samsung is said to be holding an event beforehand to confirm or deny this rumor.