Best Buy is cancelling its Galaxy Fold pre-orders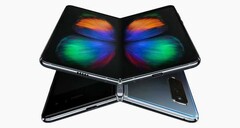 The Samsung Galaxy Fold had been available in the US through a pre-order system at Best Buy. However, this retail giant has reportedly been sending emails to its customers advising them that these transactions have been revoked. Many affected consumers are being sent a US$100 savings code by means of compensation.
The US retail chain Best Buy is suspending its pre-order system for the Samsung Galaxy Fold. Customers have reportedly received emails informing them that their opportunities to purchase this ground-breaking new device had been revoked. The company cites the OEM's continuing work on rectifying the phone's apparent structural deficiencies in making this decision.
Best Buy has also noted that Samsung has not yet announced a new release date for the flexible phone. Its customers who have been affected by this cancellation have also reported that they have been offered savings codes worth US$100 by way of an apology for the cancellation.
The chain has also invited these consumers to sign up to be notified when it can renew the availability of pre-orders for the relevant product. This can be done by visiting the product page for this device and clicking on the "Notify Me" button. However, this development remains a potential blow to the hopes of a timely re-launch date for the Samsung Galaxy Fold.