OnePlus 7 gets one over the Samsung Galaxy Fold with UFS 3.0 confirmation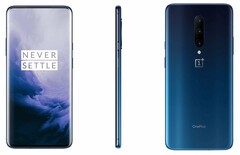 It was already rumored that at least one device in the upcoming OnePlus 7 series would feature fast UFS 3.0 storage, but now it has been confirmed by CEO Pete Lau himself that the regular OnePlus 7 smartphone and the Pro and Pro 5G variants will have this storage solution. The Samsung Galaxy Fold was going to be the first device to bring UFS 3.0 to the mass market until it was recalled.
Pete Lau shared a bit of interesting news on Twitter that will have expectant OnePlus 7 buyers and fans of the Chinese manufacturer in general rubbing their hands with glee. We already reported on a tip that the OnePlus would be getting UFS 3.0 storage, most likely for the Pro models. But now it has been confirmed that even the regular version of the OnePlus 7 will enjoy super-fast storage rates.
Ironically, it appears the provider of the UFS 3.0 hardware will be none other than Samsung. The Galaxy Fold was originally going to be the first smartphone to bring the heralded storage type to consumers, but obviously with all the brouhaha about broken displays and plastic protective covers being wrongly removed, OnePlus has been able to take advantage of Samsung's misfortune.
The OnePlus 7 smartphones will enjoy a rapid form of storage that has reportedly much quicker sequential read and write rates over UFS 2.1 and improved random read and write speeds as well. While UFS 2.1 offered a maximum total bandwidth of 1200 MB/s (600 MB/s per lane) the newer UFS 3.0 speeds along at 2900 MB/s (1450 MB/s per lane). It's unsurprising that Lau is already crowing about beating Samsung to the punch.