OnePlus 7 Pro 12 GB RAM variant spotted in GeekBench tests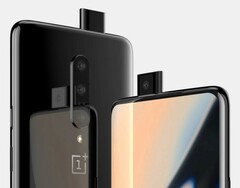 Even though the OnePlus 7 Pro 12 GB RAM version has similar hardware specs compared to Samsung's Galaxy S10+ model, the GeekBench scores appear to slightly favor the Chinese smartphone. It should be noted that the high-end OnePlus 7 Pro version with 12 GB RAM will cost almost 50% less and it also comes with a better display.
Most of the specs for the regular One Plus 7 and Pro models are already known thanks to early leaks and renders, and now we even get to see how the Pro version performs in GeekBench tests. Spotted under the OnePlus GM1917 codename, the 12 GB RAM version of the OnePlus 7 Pro was tested on April 30.

While the GeekBench tests are not as comprehensive as the AnTuTu ones, which also include more Chinese models, we can still compare the OnePlus 7 Pro model to Samsung's latest Galaxy S10 lineup. Looking at the scores from the Snapdragon 855 variant of the Galaxy S10+ that also comes with 12 GB of RAM, it turns out that the OnePlus 7 Pro is slightly faster, and this could be attributed to the more optimized OxygenOS based on Android 9.0. The OnePlus 7 Pro managed to score 3,551 points in the single-core tests and 11,012 points in multi-core mode, while the Galaxy S10+ scored 3,429 and 10,642 points, respectively.

With such close scores, one would wonder why OnePlus 7 Pro should be chosen over Samsung's flagship. For starters, the OnePlus smartphone is rumored to cost almost 50% less than Samsung's model (around US$800), and it would also get a bigger 6.7-inch AMOLED display with 90 Hz refresh rate, QHD+ resolution and no punch-hole selfie cam. The main rear camera on the OnePlus 7 Pro is also said to feature a 48 MP sensor and 3X optical zoom plus stabilization.

OnePlus is expected to officially unveil the 7 Pro along with the regular version and a 5G-ready version on May 14.