OnePlus CEO's tweet appears to confirm some rumors about the OEM's next flagship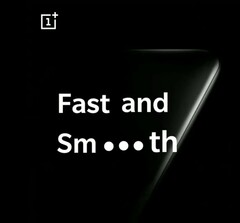 OnePlus' chief executive, Pete Lau, posted a tweet with more details on a "new device", as promised. It mainly consisted of what could be a new tagline for 2019, in addition to a short video showing a device that could have curved sides and nothing along its top edge. This, then, may be the rumored 7 Pro.
OnePlus' CEO had announced that he would post a new tweet on April 17, 2019 with some clarification on the company's next flagship. Should the leaks and rumors around this phone pan out, it will actually arrive in a number of different variants: the basic OnePlus 7; a more extensive 7 Pro; and a 5G device that may also be another version of said 7 Pro.
The executive proceeded to deliver on his pledge: what we got was a brief unveiling of what may be the main theme of the OnePlus 7 line's launch: "Fast and Smooth". It matches well enough with the tagline associated with the 6T ("Unlock the Speed"). Lau also shared a short video promoting this new phrase. This is where things get particularly interesting.
This video shows a black device, mostly obscured in shadow yet visibly tilted at an angle with the possible goal of depicting a stylized 7. It is revealed in a wipe showing the new tag-line as above - in which the term 'Smooth' is spelled with 3 Os. The device itself has curved edges, with no obvious interruptions such as a display notch.
Therefore, this promo may confirm the 3-variant theory. Alternatively, however, it may also refer to the triple camera that may come attached to either the 7 or 7 Pro. In addition, it may also verify a new slew of details that have arised courtesy of the tipster OnLeaks, also via Twitter.
This individual has alleged that the OnePlus 7 Pro will have a curved, notchless screen that may be up to 6.64 inches in length. Unfortunately, this tweet also reiterates an earlier leak that states the base OnePlus 7 will end up a rehash of the 6T for 2019.