Alleged case-maker's renders for OnePlus 7 are leaked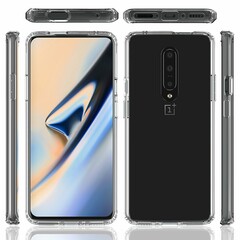 A leaker often seen on SlashLeaks has posted a set of images on their own Twitter timeline. They apparently show the upcoming OnePlus 7 in a clear case. The account-holder claims these renders come direct from an accessories manufacturer.
The OnePlus 7 is developing increasingly strong links to a design that integrates a pop-up selfie camera, thanks to a number of leaks and rumors surrounding this upcoming device. On one hand, this putative move by the Chinese OEM may be welcome as it will increase the 7's screen real-estate; on the other, the concept is often received with skepticism as it may be a motorized component that could break down with time.
Then again, this speculation is purely academic at this point. However, it has recently been reiterated by the prolific leaker Sudhanshu Ambhore on this individual's personal Twitter account. This is due to the new set of renders that show a case with a large aperture at the top edge that could allow for the passage of a selfie-camera module through it.
The renders, which are attributed to the OnePlus 7 in Ambhore's tweets, also match an earlier post on SlashLeaks showing a similar case. This one was submitted by a different account (Dmitri12). Therefore, it is looking more and more likely that this phone will indeed follow several Vivo and OPPO phones into this trend in 2019.