OnePlus 3/3T: new OxygenOS beta based on Android Pie available now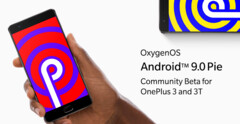 A new version of OxygenOS for the OnePlus 3 and 3T is finally here. However, there are a few slight caveats: it is still in beta (albeit an official Community Beta), and thus may still have some bugs. On the other hand, it has an up-to-date security patch - and is based on Android Pie (9.0).
It may have taken 10 long months, but the general release of stock Android 9.0 (Pie) for the OnePlus 3 series of phones has finally reached its landing stages. Earlier today (April 17, 2019), the OEM posted a thread in its official community forum inviting interested users to download and test a new OxygenOS Community Beta developed for these devices (the 3 and 3T).
OxygenOS is OnePlus' skin for Android, and is updated to Android 9.0 (Pie) in this beta ROM. It also upgrades the security patch level of the phones in question to April 2019. This new OS has been developed as a result of a former closed beta program, which 3 and 3T owners were eligible for in March 2019. Unlike this update, however, the new Community Beta can be downloaded by all users from the OnePlus website.
Those who wish to test out this new official ROM should also be advised that their device's bootloader needs to be locked before proceeding. In addition, they may lose their existing data and settings as a result of installing the beta under certain conditions. Finally, as always, this update may come with unexpected performance or functional defects.