New Open Beta for the OnePlus 6 and 6T has been released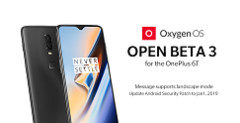 OnePlus has released the latest Android Pie-based Open Beta (OB) ROM for its latest flagship series. It is known as the OB3 and OB11 for the 6T and 6 respectively. These OBs claim to bring increased detail to the stock weather app, as well as the January 2019 security patch. Finally, it may improve on Google Duo integration on these phones.
OnePlus has prepared another Open Beta (OB) for its current flagships, the 6 series. It consists of the third and eleventh Pie-based beta for the 6T and 6 respectively. Both versions are similar to the stable, stock ROM found on either device, but contain new features that users in this OB program can preview and offer feedback. These OBs also upgrade their security patch levels to 1 January 2019.
The OB3 and OB11 also update the OnePlus Weather app with additional detail and precision. They are said to improve this service's search capability, so that results are more location-accurate. The accuracy of the descriptions returned as a result have also been improved. The Weather app in OB11 or 3 also now offers more units for each metric (e.g. pressure, rainfall, etc).
The new OBs for the 6 series also allow the stock messaging app to support landscape viewing. Finally, it also integrates Google Duo, a stock Android 9 app for video calling, into the Phone app. These new betas are now available for download, although their roll-out may not have hit users in all countries yet.