AMD will make only about 5000 units of the Radeon VII: new leak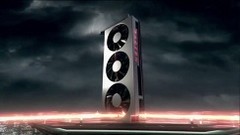 AMD could make 5000 - or less - Radeon VII GPUs for sale for their February release, according to sources cited in a new TweakTown report. This may be because the new 7nm cards are Radeon Instinct cut-downs. In addition, this report indicates that there will be a dearth of Radeon VII custom cards.
AMD could make 5000 or fewer Radeon VII GPUs for when they will go on sale in February. At least, this is the case according to Tweaktown's industry sources. This outlet now speculates that this may be because of the line's reliance on the latest Radeon Instinct components. The two series have similar 7-nanometer architectures; however, while an MI60 or MI50 can make justifiable HPC money, each Radeon VII will be sold for only US$699.
It also now appears that the Radeon VII will have only 64 raster-operation unit (ROPs), compared to the MI50's 128. This will bring the new GPU's FP64 performance down considerably compared to the pre-existing deep-learning model. On the other hand, the first 7nm Radeon card will retain the 300-watt TDP found in the HPC card, and is also rated for superior energy-efficiency and cooling. In addition, both cards have 16GB of HBM2 memory. However, it is true that AMD may make overall revenue losses because of the Radeon VII. The gamble of releasing it so as to stay on the gamer/creator radar, and to provide a stop-gap until the Navi series comes along, may prove risky for AMD.
The TweakTown report also states that there will be no custom versions of the Radeon VII available. It is not unlike AMD to lag behind NVIDIA in this respect. However, it will be interesting to see if the company keeps this up when Navi-based cards are released.