Atari VCS to use AMD Ryzen Embedded R1000 SoC, still has no firm release date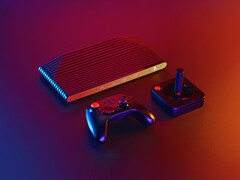 Atari announced this week that the Atari VCS would switch to an AMD Ryzen Embedded R1000 APU, officially ditching the Bristol Ridge A10 it had planned to use last year. While the R1000 will bring better performance and support for modern features (like 4K video playback), it brings a heavy negative to the effervescent console - delays.
AMD recently announced its new AMD Ryzen Embedded R1000 system-on-a-chip. There's already one headline-making device that will use the new chip from AMD. Earlier this week, Atari announced that the upcoming Atari VCS will run on the AMD Ryzen Embedded R1000 APU.
Keen-eyed readers will notice that AMD is offering two variants of the Ryzen Embedded R1000. One will use an AMD 1505G CPU clocked at 2.4-3.3 GHz, while the other uses a 1606G CPU clocked at 2.6-3.5 GHz. Atari did not mention which variant would power the Atari VCS. That said, the graphics chip used in the two chips is the same Vega 3 GPU.
The R1000 signifies a switch for the Atari VCS. Last year, Atari stated that the VCS would run on a Bristol Ridge APU. Last month, Atari announced they were ditching Bristol Ridge in favor of a then-unannounced dual-core APU.
The shift to the R1000 should bring some modern niceties that aren't possible on Bristol Ridge. Thanks to the Ryzen Embedded APU, the Atari VCS will now support built-in Ethernet, 4K video playback with HDCP, and support for DRM video streaming from services like Netflix and HBO.
Michael Arzt, COO of Atari Connected Devices, said that the R1000 opens new possibilities for the Atari VCS:
With the AMD Ryzen Embedded R1000 powering the Atari VCS, we can support the 4K 60fps HDR content that users expect from a modern, secure gaming and entertainment system. AMD's new Ryzen Embedded SoC will also help protect the VCS' environment and content as we support an unprecedented open-access model that allows Atari's highly-creative community to install any other operating system side by side with the Atari OS.
The inclusion of the R1000 plays into Atari's ethos of delivering a full computer experience rather than an emulation box or single-use game console. However, the switch further exacerbates a key sticking point that has plagued the Atari VCS since its announcement in 2017: delays. Atari has yet to confirm an official release date, offering only a vague "projected Q4 2019 launch." The VCS hit $3 million in funding on Indiegogo back in June of 2018, and Atari has offered minimal information since that time.
Hopefully, the Atari VCS will release before the Ryzen Embedded R1000 is obsolete.