AMD's upcoming 50th anniversary preparations continue with alleged special edition red Radeon VII graphics card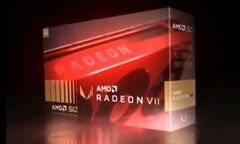 Another limited edition product has been unearthed that will be seemingly part of AMD's 50th anniversary celebrations. A red version of the great value for money Radeon VII desktop graphics card has made an appearance, although it looks likely at the moment the only differences with the regular card will be design-based rather than performance-based.
It's just over a week to go before AMD can officially celebrate 50 years of business. We have already reported on several products that have been specially prepared to recognize the red team's golden anniversary. Now it seems there may be a red Radeon VII desktop graphics card joining the celebratory bunch.
VideoCardz has managed to get hold of some supposed marketing material for the forthcoming limited edition Radeon VII, although unfortunately this just comes in the shape of an image of the planned box for the hardware. There is the tell-tale "50" decked out in gold, and the box shows off a picture of the AMD graphics card that appears to be sporting a red shroud.
There is always the possibility the celebratory Radeon VII has been mocked up by an AMD fan and is not an actual product. But if it is real, then it adds to the Ryzen 7 2700X CPU, golden-colored Sapphire Nitro+ Radeon RX 590 graphics card, and Gigabyte's X470 Aorus Gaming 7 WiFi-50 motherboard that have already been revealed as part of the 50th anniversary festivities.