Gigabyte celebrates AMD's upcoming 50th anniversary with a special edition X470 Aorus Gaming 7 WiFi-50 motherboard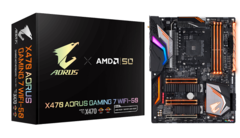 Gigabyte Japan has announced the upcoming launch of the X470 Aorus Gaming 7 WiFi-50 motherboard. The board will be released domestically on April 26 for about 35,000 yen including taxes (~US$310). It's not yet known if the Taiwanese manufacturer will be bringing the limited edition motherboard to other markets.
Gigabyte has shared some information about its forthcoming special edition X470 motherboard that has been prepared in honor of AMD's 50th anniversary in business, which takes place on May 1. The hardware comes in specially prepared packaging that includes the AMD logo and gold lettering to represent the golden 50th anniversary.
Gigabyte's X470 Aorus Gaming 7 WiFi-50 motherboard will have the same specifications as the regular board (revision 1.1). However, it does come with an additional LED overlay that lights up to remind users of AMD's 50th anniversary. The usual unique Gigabyte coloring and a huge selection of connectivity options are present with the limited edition motherboard.
There are now several products celebrating AMD's 50th anniversary: We already reported on the Ryzen 7 2700X 50th Anniversary Edition CPU and Sapphire has come up with an appropriately golden-colored Nitro+ Radeon RX 590 graphics card. The red team is holding a 50th Anniversary VLAN Party on May 4 where there will be opportunities for gamers to win the above AMD products as prizes, along with the Gigabyte X470 Aorus Gaming 7 board and copies of World War Z.