Asus reveals full list of AM4 motherboards that will get BIOS updates for AMD's upcoming Ryzen 3000 CPUs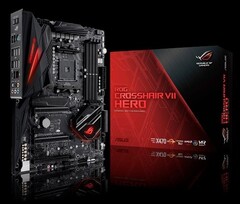 Asus has posted a statement detailing which of its motherboards will be compatible with the upcoming next-generation Ryzen 3000 series of processors from AMD. The list covers models from the 300 and 400 series of products, and Asus has added that further motherboards will be included on the list soon.
It seems likely that AMD will finally reveal its Ryzen 3000 Zen 2-based desktop CPUs within the next couple of months, and OEMs are preparing their products so that they are compatible with the next-generation chips. Asus has published a list of 300- and 400-series motherboard models that will support AMD's forthcoming processors.
Products that are part of the X470, B450, X370, and B350 chipset lineups have been included. BIOS updates will be made available via the Asus website, with the motherboards listed below (see image) already scheduled for the software upgrade.
There was some concern that older 300-series motherboards would be overlooked, regardless of featuring the necessary AM4 socket compatibility. However, Asus has now made it clear that owners of its motherboards won't necessarily need to buy a new product just to enjoy the improvements AMD's next-generation desktop processors should bring with them. MSI has also stated that it will be offering BIOS updates to allow for Ryzen 3000 compatibility.