List of Asus X570 motherboards for AMD Ryzen 3000 series leaked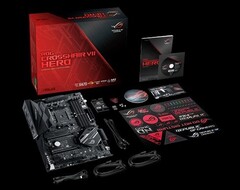 The new AMD X570 chipset is expected to be launched soon and a list of motherboards produced by Asus for this particular generation has been leaked. The products being prepared cover a number of well-known Asus lines, including ROG and TUF. ASRock's upcoming line-up of X570 boards has also been published online.
Unsurprisingly, motherboard manufacturers are starting to prepare for the launch of the AMD X570 chipset. Thanks to some leaked slides, the latest flagship chipset from the red team is expected to be revealed at Computex 2019, which runs from May 28 to June 1. The X570 is believed to be a sole design by AMD, with ASMedia's collaboration not required for this particular iteration.
The current list of Asus X570 motherboards that will support AMD's upcoming Ryzen 3000 series of chips includes: ROG Crosshair VIII Formula, ROG Crosshair VIII Hero, ROG Crosshair VIII Hero (Wi-Fi), ROG Crosshair VIII Impact, ROG Strix X570-E Gaming, ROG Strix X570-F Gaming, ROG Strix X570-I Gaming, Prime X570-P, Prime X570-Pro, Pro WS X570-Ace, TUF Gaming X570-Plus (Wi-Fi), and TUF Gaming X570-Plus.
The ASRock-manufactured boards were discovered on the website for the Eurasian Economic Commission (see image below). One of the noteworthy expectations for AMD's X570 chipset is the incorporation of PCIe Gen4 connectivity that will allow speedy interaction with the Zen 2 Ryzen 3000 desktop processors. PCIe 4.0 offers data transfer rates of 16 GT/s compared to PCIe 3.0's 8 GT/s.