Deal | AMD seemingly slashes prices for Zen+ performance Ryzen 7 CPUs ahead of Zen 2 launch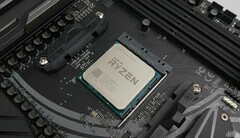 Prices for second-generation AMD Ryzen CPUs have dropped, with US$50 being shaved off a performance-level Ryzen 7 2700 CPU on Newegg. A number of CPUs based on the Zen+ microarchitecture have been discounted, leading to speculation that AMD is making space in its inventory for the upcoming Zen 2-based Ryzen chips.
A number of attractive deals for AMD Ryzen processors can be found on Newegg at the moment. The mainstream AMD Ryzen 5 2600 has been reduced from US$199.99 to US$164.99. The hexa-core CPU has a clock rate of 3400-3900 MHz and can perform well for its price in numerous benchmarks. In UserBenchmark the Ryzen 5 2600 managed to hold its own against a more-expensive i5-8400.
Next up for shoppers interested in bagging a Zen+ bargain from AMD is the Ryzen 7 2700. This performance-level chip can boost its clock to 4.1 GHz and has eight cores and 16 threads of processing power to offer. It's currently priced at US$249.99, which is a considerable cut from US$299.99.
But for those who want a CPU that can manage a 4.3 GHz clock rate, then the discounted AMD Ryzen 7 2700X should be considered. This unlocked processor is priced at US$294.99, and it can almost keep up with an i7-8700K, which is a much more expensive CPU. Yet again AMD shows a better price-performance ratio with one of its Ryzen CPUs.
With cuts across a range of Zen+ CPUs, it's believed AMD is preparing for the release of the Ryzen 3000 series of processors that are based on the Zen 2 microarchitecture. Although a lot is expected from these upcoming chips in terms of performance and power, their likely steep prices might help encourage desktop gamers and overclockers to look more closely at the discounted second-generation Ryzen chips instead.