Deal | Pick up an AMD Ryzen Threadripper 1900X processor for US$299.99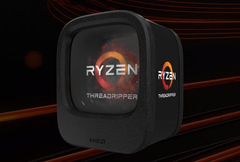 The 1st-Gen AMD Ryzen Threadripper 1900X CPU is currently priced at US$299.99 on Newegg. This Zen-based high-end desktop processor (HEDT) was originally released in August 2017 and cost US$549 at the time of launch. The chip has eight cores and 16 threads, and it can offer a boost clock of up to 4 GHz.
It seems AMD's Ryzen Threadripper 1900X chip is back under the US$300 mark again. We reported last year on price cuts for the first generation of Ryzen Threadrippers, and now the series entry-level chip, the 1900X, is at a tempting price of US$299.99 on Newegg for those interested in putting an HEDT chip in their system.
The Ryzen Threadripper 1900X offers a base clock of 3.8 GHz and is unlocked for overclocking. Based on a 14 nm manufacturing process, the 1900X was part of AMD's Summit Ridge lineup of CPUs. Scores in various benchmarks have shown the Threadripper 1900X to offer decent performance, especially in multi-core operation: 2.02 in Cinebench R11.5 64-bit (single-core) and 19.21 (multi-core); 15,633 in PassMark CPU Mark; and 4,400 in Geekbench 3 (single-core) and 32,751 (multi-core).
Of course, it's important to make sure your system has the appropriate cooling solution in place to make sure this impressive chip can perform at its best. With 16 MB of L3 cache, quad-channel DDR4-2666 memory support, and 64 lanes of PCIe (3.0) connectivity, the Ryzen Threadripper 1900X could power your desktop to new heights.