AMD 12- and 24-core Threadripper 2 chips to hit the market on October 29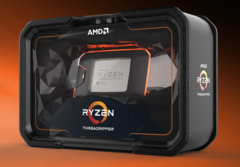 AMD has announced that its 12- and 24-core Ryzen 2 Threadripper chips will be available on October 29. The new chips are counterparts to the more expensive 16- and 32-core chips in the Threadripper lineup and will appeal to enthusiasts looking for a balance between performance and price.
Enthusiasts looking to get their hands on AMD's 12- and 24-core second-generation Ryzen Threadripper only need to wait until October 29. The new 12-Core Threadripper 2920X is the counterpart to the 16-core 2950X. As such, it has the same 3.5GHz base clock speed, 32MB L3 cache and a 180W TDP. Its precision boost is slightly down at 4.3GHz versus 4.4GHz of the 16-core part.
The 24-core 2970WX is the more affordable counterpart to the 32-core 2990WX and also shares similar performance specs per core. It is clocked at a base frequency of 3.0GHz and has a 65MB L3 cache with a 250W TDP. Precision boost is 4.2GHz. Like the 32-core 2990WX, the 24-core 2970WX will benefit from AMD's new Dynamic Local Mode software designed to maximize its multi-threaded capability and boost performance in gaming and other demanding applications.
Come October 29, the 12-core Threadripper 2 2920X will retail for US$649 while the 24-core 2970WX will retail for US$1,299. Neither is exactly cheap, but you won't get more bang per thread than these.