AMD's Ryzen 3000 CPUs to get outstanding performance bump over Ryzen 2000 models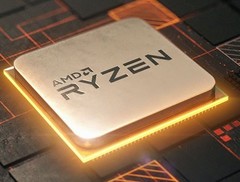 The Ryzen 2000 series still delivered decent performance gains over the original Ryzen models, even if the shrinking process was minimal. With the jump from 12 nm to 7 nm, the IPC boost is expected to be almost 5 times greater, at least in "scientific tasks." If multimedia and gaming loads get the same boost, this could be huge for AMD.
We are now a few months away from the official unveil of the Ryzen 3000 mainstream CPUs from AMD, as announced by the red team's CEO in early October. The jump from 12 nm to 7 nm is expected to bring 15-20% boosts in the performance and power requirement sectors, at least in theory, and now, thanks to a tweet from Bits and Chips, we also get a glimpse at the instructions-per-cycle boost.

The Ryzen 2000 CPU series boosted the IPC performance by only 3%, which still yielded decent overall performance gains, and that was with the jump from 14 nm to 12 nm. Now that the manufacturing process is jumping from 12 nm to 7 nm, the IPC boost is rumored to be almost 5 times higher. According to Italian site "Bits and Chips" "scientific tasks" would get a 13% IPC boost on average, but there are no gaming-related boost numbers as of yet. If the overall IPC is anywhere near 13%, this could mean serious performance gains for the next gen Ryzen processors.

AMD already made 8-core CPUs a mainstream thing before Intel, and with the Ryzen 3000 series, the red team is expected to up the ante with 10 and even 12-core CPUs. Meanwhile, Intel is struggling with the 14 nm node and is far behind on the 7 nm node.