AMD's shares drop 24% after Q3 earnings report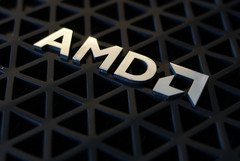 AMD is now feeling the full hit of the GPU-based crypto mining decline that started back in Q1. Instead of a projected US$50 million downturn in GPU sales, the red team reported losses of US$150 million, thus triggering a share drop of 24%. On the other hand, CPU sales are stronger than ever.
AMD's third quarter financial report was recently released, and it seems like AMD is not so optimistic about the crypto market crash anymore. The effects of the crypto fallout were not immediately felt by AMD, as the company reported unexpectedly good revenue figures in Q2. Now, after three months, AMD is feeling the hit with a sharp downturn in the graphics sector, which immediately triggered a considerable share plunge for the red team.

CEO Lisa Su stated that the third quarter brought a massive decline in GPU sales, leaving AMD's channels overstocked with inventory, and this situation could continue over the next 'several quarters.' Compared to Q3 2017, AMD's revenues are up 4%, amounting to US$1.65 billion. However, compared to Q2 2018, when the crypto recession was in full effect, the revenues are down 6%. The red team also estimates a downward trend for the next few quarters, with Q4 revenues projected at US$1.45 billion.

According to Su, the revenue hit in the GPU sector was three times the predicted US$50 million decline. On the bright side, the Ryzen 2000 CPU sales represented almost 70% of the revenue from the CPU sector, plus the company recorded the highest CPU unit shipment in almost 4 years.