AMD's Radeon RX 590 is up to ~9% faster than Nvidia's GTX 1060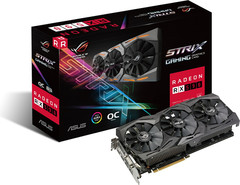 The mid-range Radeon RX 500-series from AMD was preferred by crypto-miners, while gamers stuck to the GTX 1050/1060 solutions from Nvidia. Now that AMD took a serious hit with the crypto market decline, the red team is trying to regain some market shares in the mid-range gaming sector with the Radeon RX 590 solution that looks to be slightly faster than Nvidia's GTX 1060 (6 GB).
Two weeks ago, a Radeon RX 590 GPU supposedly featuring the refreshed Polaris 30 popped up in 3DMark's database and it looked like the overall performance gain was not really impressive, especially compared to the Radeon RX 580. While synthetic benchmarks could provide a broad overview on performance gains, real-world performance from popular games usually offer a better performance indicator. Thus, the recent leaked Final Fantasy XV benchmarks could prove more relevant to prospective users looking to upgrade to a mid-range card.

Up until earlier this year, AMD's mid-range RX 5xx cards were usually chosen for crypto-mining purposes rather than gaming purposes, as the GTX 1050/1060 models seemed to offer more bang for the buck. With the upcoming Radeon RX 590, this might not be the case anymore. According to the leaked Final Fantasy XV benchmarks, the upcoming RX 590 is slightly faster than the GTX 1060 6GB VRAM model, but not in all tests. For example, @1440p High Quality, the GTX 1060 is 0.7% faster, while in 4K Standard Quality, the RX 590 is 9.26% faster, and in 4K High Quality it is 6.96% faster than the GTX 1060. Additionally, when compared to the RX 580, the Polaris 30 GPU may prove to be up to 16.85% faster.

As far as release date and pricing are concerned, the RX 590 is rumored to be launching on November 15 for ~US$300.