Black version of the Sapphire Nitro+ Radeon RX 590 spotted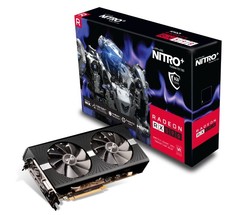 A new variant of the AMD Radeon RX 590 has been spotted by HEXUS. The Sapphire Nitro+ Radeon RX 590 8GD5 OC has been listed on the Sapphire Technologies website. However, it seems the only difference between the latest addition and the Sapphire Nitro+ Radeon RX 590 8GD5 Special Edition is the color. The new version of the GPU comes in a black shroud.
The AMD Radeon RX 590 was released in November, and as pointed out by HEXUS, there aren't too many variants of the high-end card currently available. PC owners wanting to get their hands on the GPU, which is based on Polaris 30 XT architecture, have been able to choose from the rather striking Red Devil version from PowerColor, the Fatboy from XFX, or Sapphire's Nitro+ Special Edition.
Now a new option has become available, and the Sapphire Nitro+ Radeon RX 590 8GD5 OC comes in the more serious color of black. The specifications for the OC variant appear to be the same as the blue Special Edition card. Purchasers of either GPU will get hardware that works with 2304 stream processors, a boost engine clock of 1560 MHz, a 256-bit memory bus, and 8 GB GDDR5 memory.
Even the connectivity is identical, with both cards offering 2x HDMI 2.0b, 1x DVI-D, and 2x DisplayPort 1.4. Apart from the shroud color and name, it appears there is nothing to separate the two Radeon RX 590 variants. Although the latest addition to Sapphire's lineup has "OC" in its name, the card is not overclocked in comparison to the Special Edition.