Deal | XFX Radeon RX 590 Fatboy graphics card going for a song at US$199.99 plus free game pack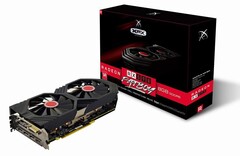 Amazon US is currently offering XFX's Radeon RX 590 Fatboy video card for a pinch under US$200. Buyers willing to shell out US$199.99 for this version of AMD's board will get a piece of hardware that packs 8 GB of GDDR5 memory and a boost clock rate of 1,580 MHz. Buy it before June 8 and you will also get a download code for two new games for your Fatboy to run.
There's a sweet deal going on at Amazon US at the moment if you're currently in the hunt for a new desktop graphics card. The online retailer is selling the XFX RX-590P8DFD6 Radeon RX 590 Fatboy 8 GB OC+ 1580 MHz DDR5 3xDP HDMI DVI graphics card for US$199.99, which is a reduction of US$80 from the launch price of US$279.99.
If that price isn't tempting enough, the Radeon RX 590 Fatboy also comes with Tom Clancy's The Division 2 Gold Edition and World War Z for free as long as you purchase it within the qualifying dates. The XFX Radeon RX 590 Fatboy offers 8000 MHz of memory speed that can utilize a 256-bit memory bus, so gamers can expect bandwidth of 256.0 GB/s.
The midrange AMD Radeon RX 590 has achieved similar performance levels to the Nvidia GeForce GTX 1060 graphics card, but typical of many AMD alternatives it originally offered a better price-performance ratio, although if you shop around enough you can get the Nvidia card at a similar price nowadays. However, you could do a lot worse than having a Fatboy running in your system.