Latest Dell XPS 15 9575 BIOS updates result in unresponsive input devices when logging in to Linux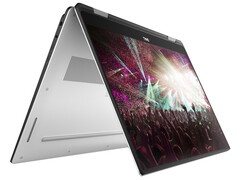 The latest BIOS updates (version 1.4.0 and above) to the Dell XPS 15 9575 2-in-1 have become a cause for concern as they seem to render the keyboard and touchpad unresponsive whenever a user tries to login to the Linux desktop environment. Those who have filed this bug have confirmed that this is indeed a BIOS issue as the problem was resolved upon downgrading to the older 1.2.0 BIOS version.
Working For Notebookcheck
Are you a techie who knows how to write? Then join our Team! Especially English native speakers welcome!
Currently wanted:
News and Editorial Editor - Details here

Last year we reported about a bug in a BIOS update to the Dell XPS 15 9575 2-in-1 that caused the trackpad to have a mind of its own. Now, we again get to see a similar bug with the the latest BIOS version for the XPS 15 9575 convertible that affects the touchpad and keyboard responsiveness for users trying to logon to Linux. The bug was filed at the end of March 2019 but the problem appears to persist even with the latest firmware released at the end of April.
User Joe Barnett has filed a bug report on the Ubuntu Launchpad bug tracker stating that the touchpad and keyboard in the XPS 15 2-in-1 become unresponsive when logging in to the Gnome Display Manager (GDM) on Ubuntu 19.04 when the laptop is flashed with BIOS version 1.4.0 or above. He writes,
On a dell XPS 15 2-in-1 with the latest 1.4.0 bios, my touchpad and keyboard are unresponsive at the gdm login screen. Keyboard works to unlock encrypted harddrive before that though. If I plug in a USB keyboard or activate my bluetooth mouse, I can use those to log in, and then after logging in the laptop touchpad and keyboard work again. Logging out of the desktop results in the laptop touchpad and keyboard working on the gdm screen.

Did not see this behavior before upgrading from 1.2.0 bios to 1.4.0 bios, but also had not rebooted in a while, so not sure if bios or package upgrades triggered this behavior."
It's not just Joe Barnett who's facing the issue with Linux logons. Other users have also chimed in to confirm the same. Additionally, users have also said that the keyboard and touchpad only start working once the hinge is opened and closed more than 180 degrees even after logging in. A Precision 5530 2-in-1 user who goes by the username Phusho with BIOS version 1.4.8 also replied in the affirmative.
The good news is that downgrading the BIOS to 1.2.0 on the XPS 15 9575 and to version 1.0.5 on the Precision 5530 appears to solve the problem. The bad news is that the bug is not resolved even in the latest 1.5.1 BIOS version for the XPS 15 9575 including on other Linux distros such as Fedora 30.
Firmware reliability issues are not new to Dell XPS systems and we've covered quite a few of them in the past. Just like the XPS 15 9570, the XPS 15 9575 also suffered from DPC latency issues that invited a lot of ire from users. To be fair, Dell has never denied that these issues exist but most fixes have taken their own sweet time to arrive, with some of them still a work in progress. We hope that Dell takes up these issues on priority and will keep you posted of the developments.
Have you experienced an unresponsive keyboard and touchpad with your Dell laptop running Linux? Let us know in the comments below.
Thanks to reader Phusho for the tip!