Kali Linux now available for Raspberry Pi 4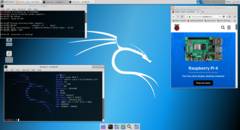 Kali Linux is now compatible with the Raspberry Pi 4. Currently, the distro is only available as a 32-bit OS, but Offensive Security is planning on releasing a 64-bit version soon. In the meantime, security aficionados who have a spare Raspberry Pi 4 lying around can head over to the Kali Linux site and download the distro image.
The Raspberry Pi 4 is perhaps the biggest thing to happen to single-board computers this year, and with good reason. Now, network security-conscious consumers can install Kali Linux on the new Pi thanks to a new release for the new single-board computer.
For those wondering, Kali Linux is a Linux distro based on Debian. However, Kali comes with software modifications and pre-installed tools specifically geared for penetration testing and auditing network security. Kali has long been a favorite for security professionals and aficionados due to its pre-configured setup.
The version of Kali Linux for the Raspberry Pi 4 includes a smattering of useful penetration testing tools as well as an on-board WiFi monitor mode and support for frame injection. Currently, there is only a 32-bit version of Kali, but the developers behind the distro are hoping to have a 64-bit version released "in the near future." Considering the low specs of the Pi 4 (particularly the 4 GB of RAM maximum configuration), the 32-bit version should feel right at home on the Pi 4.
If you're interested, head over to the download page for Kali Linux ARM distros, find the section marked "RaspberryPi Foundation," and download the 32-bit version for the Raspberry Pi 4. Keep in mind that Kali currently only offers the download via Torrent (likely since it's so large), so you'll need a torrent client to download it.