Dell has no plans to release a new XPS 15 convertible in 2019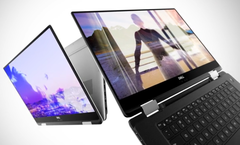 There won't be a successor to the Dell XPS 15 9575 released in 2019. The popular 2-in-1 convertible laptop was released in the first half of 2018 and there seems to be plenty of people who are expecting the American manufacturer to offer a refreshed or upgraded option for this year. But that will not be happening.
There's no doubting the Dell XPS 15 9575 convertible is a good device. Currently, it can be configured with up to an 8th Gen Intel Core processor, 16 GB RAM, anywhere from a 256 GB to a 2 TB solid state drive, and it comes with an AMD Radeon RX Vega M GL GPU that packs 4 GB of dedicated HMB2 memory. It's a powerful laptop that offers the flexibility of a convertible.
But for those hoping for a possible upgrade to 9th Gen Intel Core processors or even a whole brand-new successor, XPS chief Frank Azor has some bad news for you. The Dell executive was asked when this year's variant of the XPS 15 convertible would be made available and he simply responded "not happening in 2019".
A new Dell XPS 15 convertible doesn't appear on the recently leaked Dell roadmap. There's mention of the current 9575 model, which is contained in a blue arrow for "shipping" that points all the way up to March 2020, so it seems clear enough that if you are waiting for a refreshed or redesigned XPS 15 2-in-1, you have a bit of a wait in front of you.