Dell reveals its plans for a foldable laptop, and it is not good news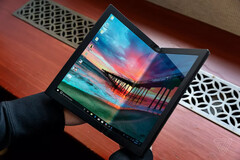 All paths point to foldable. Samsung, Lenovo and now Dell? Frank Azor has had his say on the company's progress towards releasing a foldable laptop and the current pitfalls that trying to fit all that tech in a small form factor presents.
Has Lenovo whet your appetite for a foldable laptop? Well, Dell will not be leading the way with its Chinese rival, at least according to Vice President & General Manager of Alienware, Gaming and XPS at Dell.
In an interview with Gizmodo, Azor confirmed that Dell is not even "clear yet on how to do that [a foldable] just yet". The company is experimenting with how to make such a device, but it is "wrestling with, and fighting with, and trying to figure out" how to put a larger display into a smaller format than a conventional laptop.
Moreover, foldables will inevitably have smaller batteries because of their more compact form factor. A larger display plus a smaller battery tends to be bad news for power consumption and battery life.
Worse still, a small form factor necessitates small components which, as Azor claims, are "not just expensive...[they are] not that fast". Getting the keyboard right on a foldable laptop would also require " a lot of software work" too.
Azor claims that when Dell is "95 percent of the way there", then it will reveal "something we think we want to go do". Seemingly, the company is nowhere near reaching that stage though, which is surprising as Lenovo seem somewhat close to bringing a foldable laptop to market. More of the same from the American company, then? Well, it may have an Alienware car on the horizon. Or, perhaps more realistically, a new XPS 15.