Meet PlayDate, a new handheld gaming system with a black and white screen and a crank coming 2020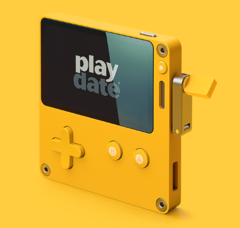 Panic, a software developer better known for its Mac and iOS apps has announced its first piece of hardware and it is about as cute and cool as it gets. Its new PlayDate handheld gaming will feature retro style games on a small Game Boy-like device fitted with a high-quality black and white display a D-pad, a couple of buttons and an analogue crank.
Panic is a small software studio from Portland, Oregon best known for making Mac software and a hit iOS indie game called Firewatch. No one, however, expected the company to launch the PlayDate a brand new retro-style handheld gaming console with the kind of quirks that has the potential to make it a breakout hit. The device is focused solely on gaming playability and adopts a decidedly non-cutting edge approach to video games unlike its own iOS titles, including the forthcoming Untitled Goose Game.
The PlayDate looks as cool and cute as it gets when it comes to gadgets. It looks something like a cross between a Nintendo Game Boy and an Apple iPod and comes in a funky yellow color. It centers on a high-quality 2.7-inch black and white display and features a simple control scheme of one D-pad and two buttons. However, what sets it apart from the norm is an idiosyncratic fold out crank that can be used to play games designed to use it as a control. The first such title is from Katamari Damacy creator Keita Takahashi called Crankin's Time Travel Adventure.
But it is not all low-tech. It comes with Wi-Fi, Bluetooth, a USB-C port and even a headphone jack. To help bring the hardware to life, Panic partnered with Swedish company Teen Engineering who also came up with the crazy crank idea. Rather than using cartridges, it uses on board storage (unspecified) for the games which will be released as 'Seasons.' The first season comes with 12 -games unlocked over a 12-week period. Sales will determine whether future seasons of games will follow.
The PlayDate is slated to ship in early 2020 for US$149 with availability by country still being determined. If you're keen, you can sign up for information on when the pre-order goes live later this year.