The future of Slightly Mad's Mad Box console that proposed VR gaming at 120 FPS is looking grim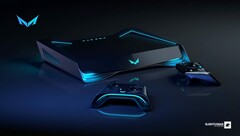 An executive for Slightly Mad Studios has admitted that the future development of the Mad Box console is looking "questionable". Slightly Mad, which is the company behind the Project CARS series of games, revealed it was planning on producing a console that could offer incredible VR support amounting to 60 FPS per eye, or 120 FPS in total.
It seems Google's Stadia concept has already started crushing the competition, even if that competition is in the form of a project that was still looking for investors. According to Slightly Mad's online marketing director, Nathan Bell, two major investors pulled out of the Mad Box development after Google made its game-changing revelation.
Obviously, it costs millions to develop, produce, and promote a new console in the fiercely competitive gaming market. As soon as hardware is even considered, the names of Sony, Microsoft, and Nintendo immediately cast their respective shadows over any plans. Developers desperately need a niche for their products otherwise they will be simply swept aside by the already established console juggernauts.
Slightly Mad's Mad Box was a lofty proposition with its 120 FPS VR gaming capability and apparent "next-generation" components. But with Google insisting the future of gaming is not box-related, it seems some of the money has agreed and fled the project. "Questionable" possibly means "pending termination," but at least Slightly Mad can then concentrate on Project CARS 3 and Project CARS GO instead.