The Sega Genesis Mini/Mega Drive Mini console finally gets an official release date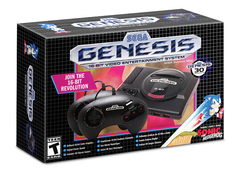 The Sega Genesis Mini (Mega Drive Mini) has finally received an official launch date: September 19. The Mini console has been in the works for some time but apparently got stuck in development as Sega changed its plans in regard to production and global availability. It will cost US$79.99/£69.99/€79.99/ AU$139.95.
We originally reported on the Sega Genesis Mini, which will be known as the Mega Drive Mini in markets outside of North America, back in April of last year. However, it seems the little console had some growing pains, with Sega parting ways with development partner AtGames due to quality concerns. Fortunately for nostalgic gamers around the world, the Japanese video game developer has decided to release the new console outside of Japan.
Apparently, the US version of the Mini console will come with some classic games like Altered Beast, Ecco the Dolphin, Castlevania: Bloodlines and, of course, Sonic the Hedgehog. There will be regional variants in regard to the game lineup but there is still a total of 40 preinstalled titles for players to enjoy. The three-button controllers (six buttons for the Japanese release) will utilize USB connections and be the same size as the original controllers, while the Mini console itself is half the size of the 1988 Sega Genesis/Mega Drive.
It will be interesting to see how well Sega's Genesis Mini/Mega Drive Mini will fare against its fellow miniature console rivals from Nintendo. The PlayStation Classic emulator flopped, regardless of the huge PlayStation fanbase. But the NES and SNES Classic consoles have apparently bagged a combined sales figure of over 10 million units, proving that there is success to be had in the mini/classic console sector of the gaming industry, as long as the hardware and software are implemented in a well thought-out manner.