Xbox Game Pass Ultimate to join Xbox Live Gold and Game Pass benefits for US$14.99 a month, coming soon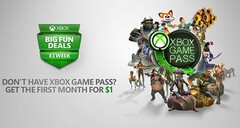 Although Microsoft still has to make this official, multiple sources have confirmed that Xbox Game Pass Ultimate will be launched for US$14.99 and will combine the benefits that come with Xbox Game Pass and Xbox Live Gold. However, subscribing to these two services individually would cost US$5 more.
The upcoming Xbox One S All-Digital edition will apparently come alongside a software deal that many will be unable to refuse: a subscription service that brings together the benefits provided by Xbox Live Gold and Xbox Game Pass for a discounted price. Microsoft has not confirmed this yet, but it looks like the service will launch as Xbox Game Pass Ultimate and will have a price of US$14.99 per month.
Right now, subscribing to both Xbox Live Gold and Xbox Game Pass leads to a monthly cost of US$19.98. While saving US$5 a month might not seem much of a big deal, Xbox Game Pass Ultimate will probably work great with the upcoming Xbox console that will rely heavily on digital downloads and subscription services.
Not that far behind in the past, Microsoft came up with an Xbox All Access subscription that had a price of US$34.99 per month, but included a leased Xbox One X and subscriptions to both Xbox Live Gold and Xbox Game Pass. That was a time-limited offer, but it appears that went well so the Redmond giant has decided to bring the deal back without the leased hardware.
As usual, remember to take this piece of news with a grain of salt. This might be just a leak that was later confirmed by other independent sources, but it's still not the real thing. Since the next Xbox console is set to arrive in less than a month, we will probably hear more about Xbox Game Pass Ultimate in the coming weeks.
Would you grab this deal if it comes out as rumored or are you one of those who are happy with a single subscription to Game Pass or Live Gold?