Disc-less Xbox One S All-Digital Edition to have a global launch on May 7 2019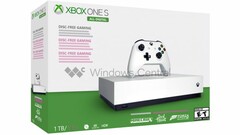 Microsoft's plans of introducing a disc-less version of the Xbox One S is well known and we're getting to know that the console is all set for a global launch on May 7. Expected to be known as the Xbox One S All-Digital Edition, the new console will be priced at the lowest tier in the Xbox One family to encourage newcomers to get a feel for the digital ecosystem.
Early this month, we've heard reports of Microsoft's plans for a disc-less Xbox One S codenamed 'Maverick'. Back then, the new console was expected to have a mid-May launch. Now, Windows Central has accessed documents that point to a May 7 2019 global launch.
Windows Central has also received product images and box art for the Xbox One S All-Digital Edition and it appears that the console looks more or less like the original Xbox One S sans the disc drive and eject button. The All-Digital Edition will be sporting 1 TB storage and comes bundled with Forza Horizon 3, Sea of Thieves, and Minecraft digital codes. For now, it appears as if the Xbox Game Pass will not be bundled with the console.
Although the exact pricing is unknown at the moment, word is that Microsoft is planning to position the Xbox One S All-Digital Edition as the lowest priced Xbox One console to make it easy for newcomers to experience the digital ecosystem. It will also co-exist with the Xbox One S and not completely replace it, indicating that Microsoft (and the gaming community) is not ready to fully ditch physical discs yet.
While the Xbox One S All-Digital Edition doesn't seem to be bringing any other new features apart from a fully digital games catalog, all eyes are on Microsoft's plan for E3 this year. We might get to witness some news about the next generation Xbox 'Lockhart' and 'Anaconda' consoles along with Microsoft's plans to counter Google's Stadia online gaming platform with Project xCloud.