Brazilian PlayStation Store may have just leaked upcoming EA Access service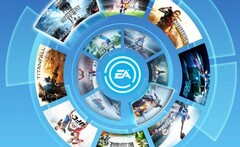 A screenshot posted on Reddit has been stirring up some excitement among PlayStation 4 owners. The image shows a page from the Brazilian PlayStation Store, and there is a small window advert for EA Access. The EA Access service offers popular games like the Madden NFL series and the NHL range to Xbox One subscribers for US$29.99 a year.
A picture shared on Reddit (see below) has created a considerable amount of buzz with PlayStation 4 gamers. The image of the Brazilian PlayStation Store shows a link for EA Access with the Portuguese words "já disponível" – "now available". Of course, there's always the chance the screenshot has been doctored or faked just to wind up PS4 owners, but if it is genuine then it looks like Sony has finally made a deal with Electronic Arts over the service.
EA Access was launched in 2014 as a platform for EA to share its numerous offerings as part of a subscription-based service. Microsoft agreed to make a deal with the gaming giant, thus bringing the service to Xbox owners. But Sony refused, claiming EA's service did not offer "good value" for owners of its PlayStation consoles.
So PS4 owners have had to shell out each time they wanted to play an EA title, while Xbox users have had the luxury of paying either US$4.99 a month or US$29.99 a year to get unlimited access to all of the games EA offers on the service, which is quite a lot. From the simple pleasures of Peggle, through the sports offerings of FIFA and NBA Live, to huge Triple-A titles like Titanfall 2 and Star Wars Battlefront II, Xbox owners have got to enjoy exclusive access to EA's service. Now it could finally be time for PS4 users to enjoy it, too.