Sony announces 4.2 million PlayStation VR headset sales; Iron Man VR should help sell some more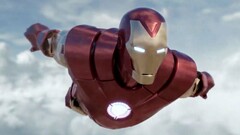 Sony has revealed in a PlayStation blog post that 4.2 million PlayStation VR headsets have been sold worldwide up to March 3. The PlayStation VR device was released in October 2016 and had passed one million sales by June 2017. A new Iron Man VR game has also been announced, which should help Sony shift a few more PSVR units.
Sony has already claimed there are over 200 games ready to be enjoyed with its PlayStation VR headset, and it looks like that considerable library of titles is encouraging PlayStation 4 owners to snap up one of the devices. In less than three years, 4.2 million units of the PlayStation Virtual Reality (PSVR) headsets have been sold, which is an impressive figure for a sector of gaming that is still considered somewhat esoteric.
The PlayStation VR, which cost US$399 at launch, features a 5.7-inch OLED display and it offers a 1080p resolution. Prices for the system have come down since 2016: It's now possible to purchase a bundle that features the headset, the PlayStation camera, two MOVE controllers, and game vouchers for Borderlands 2 VR and Beat Saber for between US$324.95 and US$349.99 (depending on the retailer).
The game Marvel's Iron Man VR should help Sony sell a few thousand more PSVR headsets. No release date has been given for the title yet (apart from "later this year"), but an announcement trailer helps give gamers a rough idea of what is coming. The game is being developed by Camouflaj in conjunction with Marvel and Sony Interactive Entertainment.