HTC's VIVEPORT is offering its subscribers a trip beyond the Wall of Westeros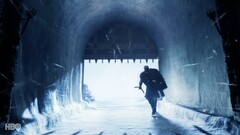 Viveport Infinity is a service that pulls together VR experiences from numerous different publishers for a single monthly fee. To this end, "Beyond the Wall", an HBO/Game of Thrones product, launches on this platform tomorrow (May 31, 2019). It may offer customers the opportunity to explore Westerosi vistas in a virtual manner.
The HTC VIVE is one of the most successful virtual-reality (VR) platforms around right now. It has also resulted in VIVEPORT technology, which supports Viveport Infinity, a subscription service that allows customers access to various different VR products regardless of vendors. This service costs approximately US$12.99 a month, although its availability may be region-dependent.
One of Viveport Infinity's latest signings is Beyond the Wall, a VR experience based on the HBO series Game of Thrones. It involves the option of joining the Night's Watch and "protecting the realms of men with your flaming sword", according to Viveport president, the somewhat theme-appropriately named Rikard Steiber.
Beyond the Wall launches on May 31, 2019. It is exclusive to Viveport Infinity and can be accessed on HTC VIVE or Oculus Rift devices. Its reported sword-fighting-based gameplay may be what fans are looking for to distract themselves until The Winds of Winter is finally released.