Oculus Rift is the most popularly used VR headset on Steam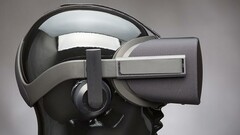 The Oculus Rift virtual reality headset has been surveyed as the most popular VR hardware utilized by Steam users. The rival headset from HTC, the Vive, also has a commanding share of users, but it has seen the gap between itself and the Oculus Rift widen over the last month. Also getting a worthy mention is Windows Mixed Reality, which can be utilized by owners of Microsoft HoloLens smartglasses.
A chart showing the most popularly used virtual reality (VR) hardware and platforms on Steam has been provided by the software distribution service. For February 2019, the Oculus Rift VR headset retained the throne as the most widely used hardware, with 48.21% share. In second position is the HTC Vive with 39.36%. The Vive was created by HTC in conjunction with Valve Corporation, which developed and operates the Steam website.
The HTC Vive's share has dropped though, as it stood at 40.62% in the previous monthly survey, which has allowed the gap between the HTC product and the Oculus Rift grow even wider. Both VR headset specialists had other products featuring in the chart: The Facebook-owned Oculus VR also has the Oculus Rift DK2 catching 0.64% share while the Development Kit 1 version of the headset had a negligible 0% share. The HTC Vive Pro, with its high-resolution displays and dual cameras, managed 1.82% share.
Windows Mixed Reality snared almost 10% share for February 2019 (9.96%). While many users on that platform will likely be using one of the two Microsoft HoloLens products, it is compatible with a number of VR headsets from other OEMs. There is also a mention for Huawei VR, which languishes at the bottom of the pack along with the Oculus Rift DK1, netting a reported share of 0%.