Star Wars: Vader Immortal game trailer, artwork leaks for Jedi Fallen Order and Episode IX trailer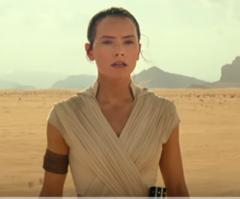 It's a big day for Star Wars fans. The first trailer for the Episode IX, officially titled "The Rise of Skywalker," has landed, along with the first game-play trailer for the new "Vader Immortal" VR game and leaked artwork from Respawn's "Star Wars Jedi: Fallen Order."
2019 is shaping up to be a huge year for Star Wars fans. In the hottest news off the press, the new trailer for Star Wars Episode IX "Star Wars: The Rise of Skywalker" has landed and we've embedded it for you below. Also revealed for the first time is the game trailer for the new Stars Wars VR game "Vader Immortal", also embedded below. Leaked, just ahead of its official launch, is the artwork for Respawn's keenly awaited game "Star Wars Jedi: Fallen Order."
Of course, it's the new Star Wars Episode IX trailer that has got everyone talking. Not only do we get a sneak peak at the action, the title effectively confirms that Rey is in fact a Skywalker. This was something that Episode VIII "Star Wars: The Last Jedi" led us to believe wasn't the case. However, we will need to see the movie before her parentage and lineage is fully revealed. Our working theory is that she is the twin of Kylo Ren and she was somehow separated at birth. Unless Luke has been a little naughty on the side.
The first game-play trailer for Vader Immortal: A Star Wars VR Series has also dropped, which will no doubt whet the appetite of Oculus Rift fans. The game will also be available on the new standalone Oculus Quest as well. Players will be wielding a lightsaber throughout this 45-minute adventure which tells a hitherto unknown backstory from the Star Wars universe. Leaking out ahead of its official unveiling later today is the artwork for Respawn's Star Wars Jedi: Fallen Order.
Which are you looking forward to the most?