HoloLens 2 could be launched at MWC19; dozens of Microsoft staff oppose its proposed military applications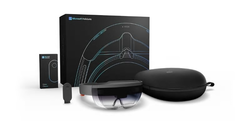 Microsoft and its CEO, Satya Nadella, will be in attendance at MWC19 in Barcelona, and it is rumored that the company's new HoloLens 2 AR smartglasses will be revealed. However, at least 50 Microsoft employees have publicly objected to the tech giant's US$480 million contract with the U.S. Army that involves the augmented-reality headset.
It seems any launch of Microsoft's HoloLens 2 will not be without controversy. Notebookcheck reported back in November how the Redmond-based company had managed to secure a contract with the U.S. Army to develop a version of the AR headset that could be used for military applications. Now, dozens of the firm's employees have got together to send a letter to Satya Nadella and Brad Smith (President and Chief Legal Officer) to contest the US$480-million agreement.
Part of the military contract reads "increase lethality by enhancing the ability to detect, decide and engage before the enemy," which makes it pretty clear that Microsoft's HoloLens 2 would be used in situations where people would be killed. The employees objecting to the contract have stated that "we did not sign up to develop weapons, and we demand a say in how our work is used."
Microsoft employees not willing to work on the military-based Integrated Visual Augmentation System (IVAS) project would apparently be allowed to work in other departments. But the critics behind the letter feel that engineers who already worked on HoloLens 2 may now be "finding themselves implicated as war profiteers." There's no doubt there would be some lucrative non-military applications for Microsoft's AR smartglasses, but it seems unlikely the company will just let go of a contract worth almost half a billion dollars.