Likely Huawei P30 Pro moon shot makes your smartphone's moon photos look less than stellar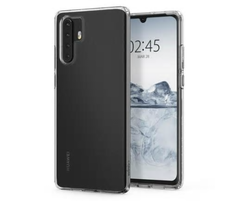 The CEO of Huawei's Consumer Business Group, Richard Yu, has uploaded a photo of the moon to his Weibo account that was more than likely taken with a P30 Pro smartphone. Huawei has been busy promoting the zooming qualities of its upcoming P30 series on Twitter, but the zoom shot of the moon certainly takes some beating.
It can be difficult to take a decent picture of the moon with a smartphone. You can fiddle around with your device's numerous camera software features, adjust the brightness, abuse the digital zoom – but chances are you will still end up with a misshapen bright blob that doesn't do justice to the Earth's only permanent natural satellite. However, if you are in possession of a Huawei P30 Pro, then you can take photographs like the one at the bottom of this article.
Apart from being a fine specimen of a lunar snapshot, the photograph seems to confirm an already expected important detail about the Huawei P30 Pro: That it will feature four cameras on the rear. The photo has a watermark (deliberate?) that reads "Huawei [...] Pro Leica Qu.. Camera." It seems obvious that the words that have been crudely obscured are "P30" and "Quad."
Huawei is already known for its smartphones' impressive zooming abilities (Mate 20 Pro, P20 Pro), but it could be that the Chinese manufacturer has really tried to shoot for the moon this time. A wide range of numbers has been bandied about for the upcoming flagship smartphone's zoom, from a believable 5x optical zoom to a less likely 18x hybrid zoom. The Sony IMX607 (38 MP) sensor and a periscope lens are both rumored to be part of the Huawei P30 Pro's quad camera setup.