The Huawei Mate X won a prestigious award at MWC19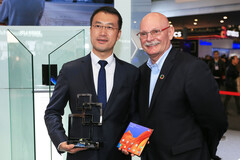 Huawei has won this year's Best Connected Mobile Device of Mobile World Congress 2019 for the Mate X. The GSMA conferred this title on the new foldable phone at the end of MWC19 (on February 28, 2019) at the GLOMO awards event. Kevin Ho, who accepted the award on the OEM's behalf, said that his team were "very excited and honored" to receive it.
Huawei appears to have done very well out of this year's Mobile World Congress (MWC19). Its Mate X device was one of a tiny handful of working foldable devices to be shown at the global tech conference. It has been received with appreciable enthusiasm, particularly from those who were able to get some hands-on time with the next-gen form-factor.
The OEM's achievement has been validated with what may have been the best accolade going at MWC2019. This was the Best Connected Mobile Device of Mobile World Congress 2019, with which Huawei was awarded for the Mate X at the culmination of the event, the GLOMO awards. The phone beat out similar models such as the Samsung Galaxy Fold and the Energizer Power Max P8100S for this prize.
As if this was not enough for Huawei, it also won a second major GLOMO award: Best Smartphone. The company snagged this title for its Mate 20 Pro device. Kevin Ho, the firm's President of Handset Business, accepted both of these awards. The Mate 20 Pro broke ground this year with its triple-camera module and Kirin 980, which also incorporated an NPU for improved AI functions in Huawei flagships this year.