All around the world, which phone is the most pretty? Huawei, apparently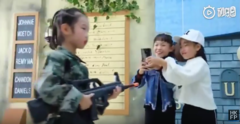 For those parents desperate to find a new catchy song to entertain children bored of watching "Baby Shark", look no further. Not only is "Huawei Beauty" sung by a bunch of cute kids, the video also features a nifty dance routine and gives some handy advice about what brand smartphone you should own. Just try to ignore the unsubtle propaganda and occasional iffy imagery.
Reuters has reported that Huawei is unsurprisingly trying to distance itself from a video featuring children that literally sing the company's praises. A cursory look at the clip for a song called "Huawei Beauty" shows nothing more harmless or sinister than a group of children singing and dancing. But on closer inspection, there are a few worrisome details to be spotted, which are exacerbated by the lyrics.
At one point the kids play dress up and it's plain to see a couple of panels that read "Johnnie" and "Jack Daniels" (it could be safe to presume the first one is for Johnnie Walker). These are later joined by signs that read "Moet" (& Chandon) and "Remy" (Martin), but you can be forgiven for missing these odd alcohol references due to the incredulous sight of a small girl dressed in full combat uniform and brandishing a toy submachine gun marching past a couple of giggling children playing at taking a photo with a smartphone.
The lyrics, which are posted at the end of this article, initially express how fantastic Huawei and its smartphones are before finishing with a generous peppering of state propaganda. It has been mentioned that the video and its creators are linked with the Chinese state-run CPC Central Military Commission Political Department Song and Dance Troupe, who are clearly very proud of Huawei and its international successes.
However, perhaps creating a breezy video of kids dancing around cheering "Huawei good, Huawei Beauty, Huawei brings glory to country!" and including strange signs for famous alcohol brands and a child dressed as a soldier isn't the best way to show your pride in a company that is currently struggling with various governments worldwide because of security concerns about potential state-sponsored espionage. Oops.