Huawei now blocking third-party Android launchers in China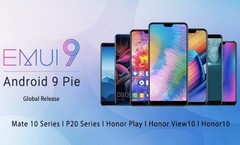 Huawei might be on its way to becoming the world's second-largest smartphone maker, but the latest move made by the Chinese brand might be a costly one in the long run. The EMUI 9.0 update will come without access to third-party launchers, although this limitation will only be applied in China in the beginning.
Huawei's EMUI interface is not bad at all, but the user should also be allowed to choose something else. Unfortunately, the top Chinese smartphone maker seems to think otherwise and has decided to block third-party launchers on devices running EMUI 9.0. The good news is that — at least for now — this change is only going live in China.
The official reason for this apparently (very) bad move by Huawei is the company's concerns about security and performance problems that might come with the use of third-party launchers. Obviously, many Android launchers currently available come with bloatware and sluggish performance, but this does not mean that all are this way.
In the worst-case scenario, Huawei could at least come up with a certification program and a nice "EMUI-compatible launcher" label for launcher developers to apply to their work. This would still provide some degree of freedom to the users of Huawei handsets while allowing the Chinese brand to exert an increased level of control over the apps that can have a negative impact on the behavior of its custom interface.
As far as we know, the limitation only applies to EMUI 9.0 (on Android 9.0 Pie) devices in China. If you happen to be a Huawei user in another area of the world running this software version and facing problems with third-party launchers, please drop a comment below.