Huawei MateBook 13 vs. MateBook X Pro: What's the difference?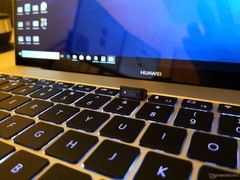 The two may look similar, but they're actually quite different. The cheaper MateBook 13 is surprisingly the faster model by more than a wide margin while the MateBook X Pro has the larger and higher resolution display. Users should choose carefully depending on which features are more important.
Huawei has been slowly expanding its lineup of laptops over the past few years to include more sizes and models. Its latest offering is the mainstream 2019 MateBook 13 which, according to Huawei, will not directly supplant last year's flagship 2018 MateBook X Pro. Our table below summarizes the biggest differences between them.
The two major factors differentiating the two laptops are their displays and overall performance. Users who want the better display ought to lean towards the MateBook X Pro as it is bigger, brighter, and with a higher native resolution here than on the MateBook 13. Meanwhile, users who want faster performance should lean towards the MateBook 13 is it uses a more powerful version of the same GPU alongside Intel's latest Whiskey Lake series of processors.
There are a number of smaller differences between them to keep in mind as well. Thunderbolt 3, USB Type-A, 16 GB RAM, and longer battery life are available only on the Pro model. On the flip side, the MateBook 13 has faster WiFi, newer Bluetooth, and an arguably better webcam. Not bad for a less expensive "mainstream" laptop designed to be a step below the MateBook X Pro.
We recommend checking out our review for more detailed information on the MateBook X Pro. As for our MateBook 13 review, expect that one in the coming days as the laptop is set to make its U.S. debut by the end of the January.
MateBook 13
MateBook X Pro
CPU

Intel Whiskey Lake
Core i5-8265U
Core i7-8565U

Intel Kaby Lake-R
Core i5-8250U
Core i7-8550U
GPU
Intel UHD Graphics 620
25 W '1D10' GeForce MX150
Intel UHD Graphics 620
10 W '1D12' GeForce MX150
RAM
8 GB LPDDR3 RAM 2400 MHz
8 GB to 16 GB LPDDR3 RAM 2133 MHz
Display
3:2 aspect ratio
13.0-inch glossy
300 nits (typical)
Touchscreen
3:2 aspect ratio
13.9-inch glossy
400 nits (typical)
Touchscreen
Resolution
2160 x 1440 (200 PPI)
3000 x 2000 (259 PPI)
Wireless
Intel 9560 (1.73 Gbps)
Bluetooth 5

Intel 8265 (867 Mbps)
Bluetooth 4.2

Ports
1x USB Type-C (AC adapter)
1x USB Type-C w/ DisplayPort support (does not support AC adapter)
1x 3.5 mm audio
1x USB Type-C (AC adapter)
1x USB Type-C (Thunderbolt 3 + DisplayPort + AC adapter)
1x USB 3.0 Type-A
1x 3.5 mm audio
Touchpad
12.0 x 6.5 cm
12.0 x 7.8 cm
Cooling
Dual ~35 to 40 mm fans + 2 heat pipes
Single ~30 mm fan + 3 heat pipes
Camera
Standard webcam
Pop-up webcam
Battery
41.7 Wh (~7.5 hrs WiFi)
57.4 Wh (~9 - 9.5 hrs WiFi)
Dimensions
15 x 286 x 211.1 mm
14.6 x 304 x 217 mm
Weight
1.30 kg
1.33 kg
MSRP
$1000 to $1300 USD
$1200 to $1500 USD
Huawei MateBook 13 i7
GeForce MX150, i7-8565U, Samsung SSD PM981 MZVLB512HAJQ; CPU Multi 64Bit:
Ø581 (538.98-696.8)