Concept video for iPhone XI offers ideas for Apple to adopt or avoid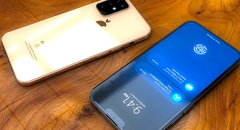 A concept video of the next-generation iPhone has been uploaded to YouTube by Hasan Kaymak. The clip shows a beautifully crafted smartphone that would either be the device of an Apple fan's dreams, or a huge disappointment for those who are concerned that the Cupertino company could emulate Huawei by incorporating a square-shaped triple camera setup on the rear.
There's no doubt Apple will have to come up with something rather spectacular with its next-generation iPhone, which could be called the iPhone XI, iPhone 11, or something completely out of left field. Samsung is hogging the news headlines with its upcoming Galaxy S10 range and Huawei hasn't been doing too bad lately thanks to sterling reviews for the Mate 20 and Mate 20 Pro. Even Sony is attracting considerable excitement thanks to rumors of a tall drink of water in the shape of the Xperia XZ4. Apple desperately needs to create a flagship champion.
The device shown in Kaymak's concept video, which was posted to the ConceptsiPhone channel, is certainly eye-catching but would an iPhone XI (or XI Max) look anything like that in reality? Probably not. The clip shows the smartphone sporting a USB Type-C port, a love-it-or-hate-it notch, and a rear-facing triple camera setup with laser autofocus. There is speculation Apple will implement USB Type-C and still keep utilizing the notch design feature – although some brave head designer might insist on going for the punch-hole solution just to surprise us all. No notch at all would be even more surprising.
In terms of the main camera, the regular iPhone XI is likely to come with a dual rear camera system, while the Max variant could sport three cameras in a square housing that is reminiscent of certain Huawei products. The concept device on show in the video is attractive, but if that was the reality, it would be far from breathtaking. For 2019, Apple's motto needs to be something akin to "game-changing," otherwise it might just find itself slipping even further behind the current smartphone-market leaders. However, Apple does have a potential ace-in-the-hole, thanks to the expected A13 chips.